By Kira Hess –
There's a Chinese restaurant in York that has a 4 star rating – and for good reason.
Shangrila, which is about 35-40 minutes away from Penn Manor, "warrants the drive out there," said Andrew Bachman of Washington Boro. "The service is great. The servers, while timid, were very fast at getting drinks and refills and very friendly."
Right when you walk in there's a warm welcoming from the host who greets you at the door and seats you right away.
"The service is great," said Dale Laughman who lives in East Berlin. Zach Perecinsky of Delta agreed and added "the food is even better."
Shangrila is clean and very well kept. It's not like most Chinese restaurants, the color pops. There are a lot of reds, oranges and yellows; however, it is not overdone.  It looks elegant and makes you very comfortable. It's certainly better than sitting at little rickety tables you find at other Chinese restaurants that are primarily carryout.
"The restaurant itself is extremely clean and the decor is surprisingly posh for a restaurant. The atmosphere is great," said Bachman.
The decorations add a nice touch to the restaurant. There are flowers and lamps everywhere. They also have pictures on the walls which add to the color and the surrounding area. The place is very cozy.
The food at Shangrila is amazing according to several local people who have tried it.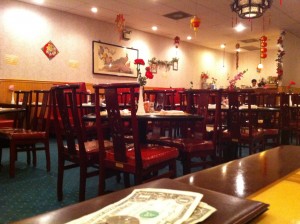 "The food is awesome," said Laughman.
The chicken fried rice, the Dragon and Phoenix, and the orange chicken are phenomenal. All the flavors flow through your mouth. The group favorites were definitely the orange chicken and the chicken fried rice.
While this Chinese restaurant is similar to others in many ways, there are many things about it that make it stand out in a crowd.
"Comparing it to other Chinese places is like comparing a McDonald's burger to Five Guys. They're relatively the same but astronomically different," said Bachman
Overall the place is amazing, it's a hidden little gem tucked away in a strip mall, very unassuming but once you go you'll find yourself coming back again and again…
"I recommend it to all of my friends who enjoy Chinese food and often take them out there myself. I've yet to hear one person say they didn't find the food to be the best Chinese food they've ever had," said Bachman.