By Alex Kirk –
The walk from the pavilion to the starting line was the only time Tuesday that Comet cross-country runners Harrison Shetler and Greta Lindsley weren't leading the pack.
Penn Manor's course, located in the Millersville Borough Park, is anything but easy.  With steep hills and sharp turns, it challenged runners from schools all over the county.  Despite this, the Comets had great success at their home turf.
"Our running was pristine this afternoon," said senior co-captain Harry Manning. "Being at home played to be a nice advantage on our side."
The Comets' Greta Lindsley, who as a freshman last season won the LL League Championship, came in first place among all the girl runners, with a time of 19:08.  She won the race by a large margin of 57 seconds.
Comets superstar runner Harrison Shetler, a junior at Penn Manor, also placed first among all male runners with a time of 16:57.  Shetler passed the race leader on the final lap to take the gold.
Shetler recalled his come-from-behind victory.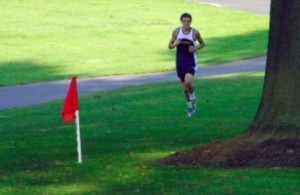 "Going into the last lap, I was behind by about 10 seconds for the majority of the lap until we got to the base of the hill where I passed him and once we got to the top of the hill, he packed it in. He was done," said Shetler.
Athletic Director Jeff Roth was cheering on his Comets at the park Tuesday. Roth said he was very proud to have both the guys and girls individual winners.
"It was excellent," said Roth.  "Two individual winners to knock off our first meet in the Borough Park, which is outstanding against two very strong teams, Manheim Township and Cedar Crest. Harrison and Greta ran both extremely well today," said Roth.
The girls and boys teams share a record of 9-3 so far this season. and plan to continue to win and compete for the remainder of their season and come to the league competition with high hopes for first.
David Burch contributed to this article.