By Connor Hughes and Cheyenne Webber –

Penn Manor's McCoy twins look like each other and play like each other on the field.
Eryn and Emily McCoy were handed field hockey sticks in fifth grade, but they disliked the game they eventually would come to love.
It was a struggle at first, but the game slowly grew on them and the sisters haven't looked back since.
Domination is a word that perfectly describes how the sisters play.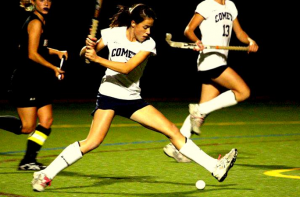 Penn Manor has lost just four games over the last three seasons since the arrival of Emily, a midfielder, and Eryn, a forward.
The duo has helped the Comets earn state and national rankings – and Penn Manor, the four-time reigning Section 1 champ, is off to a 7-0 start in league play this season – and the twins have played for the U.S. National Team, meaning they are among the top prep players in the nation.
Penn Manor coach Matt Soto had only positive things to say about the McCoy's.
"They work very well together, they're very good teammates, they work hard during practice, and they have a lot of fun," the Comets' coach said. "They make practice very fun, but at the same time, they have great skill."
Soto, who guided Penn Manor to the state championship in 2008,  is an assistant coach for the U.S. Field Hockey National Developmental Team.
Emily and Eryn also play for the U.S. Under-17 squad. In February, they will travel to California to tryout for the U-17 Team. If they make the team, the twins could travel around the world playing field hockey against some of the best national teams.
But to be the best and play with the best, sometimes you have to make sacrifices.
The sisters have had to make some sacrifices to help their career. They transferred from Manheim Township to Penn Manor before their freshman year, leaving their friends and teammates behind.
The McCoy's had to get over the always difficult hurdle of making new friends, but with the help of the team, their energetic and friendly personalities, and the fact that they always have each other to rely on, it wasn't that much of a challenge
Lisa McCoy, the twins' mom, is an assistant coach under Soto, and she does not cut her daughters any slack.
"Lisa McCoy was an assistant coach before they became varsity players," Soto said. "So she had been acclimated in our program before they were in the picture as players, so the transition has been smooth."
"(Coach Soto) knows what he's talking about, and he learns a lot from U.S. Field Hockey and he teaches it to our team," Emily McCoy said.
The McCoys are making names for themselves at the high school level, but can they do it at the next level? They're hoping so.
The McCoy twins are being highly recruited by big-name NCAA Division I colleges, but they don't want to go to separate schools; they want to stick together, and colleges are quite all right with not breaking up the duo. Almost every college that is looking at one of the McCoy's is looking at the other.
"Only one or two colleges are looking at me separately, and they aren't Division I schools," Emily McCoy said.
"We're being looked at by Boston College, Iowa, Maryland, American and the University of Massachusetts – and some other colleges so far," Eryn McCoy added.
That's not all.
Coach Soto said that the McCoy's are being looked at by up to 15 colleges – most of them being Division I.
Why are the McCoy's being so heavily recruited? It's their skill, gifted athletic ability, and their determination to win every game. They are also very competitive.
Whether it's a game for Penn Manor, the National team, or for their Lanco club team, they don't like to lose; the twins are very competitive, sometimes even with each other.
When asked who's better Eryn replied: "Me," she said, very confidently.
Emily immediately interrupted: "No, that's not even a fair question," she said.
Then they discussed it: Eryn has better stick skills, but Emily is faster. And so on. Those kinds of questions might hover over their heads for their entire field hockey careers. But for now, the twins are very happy to be playing field hockey with each other.
The McCoy twins play so much field hockey and practice so much together that they have created a sixth sense between them. Emily can sense where Eryn is and vice versa.
"They definitely have a sixth sense," Soto said, "and that comes from preparation because they play so much hockey."
The McCoy's plan is to continue their marvelous field hockey journey together through high school and through college and however far it takes them.
"It's always been me and her," Emily McCoy said.