By Connor Hughes –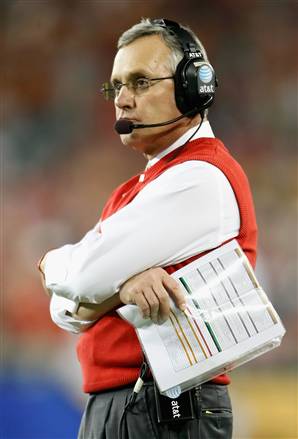 The turmoil took its toll on Jim Tressel.
Tressel, who led Ohio State to its first national title in 34 years, resigned Monday amid NCAA violations from a tattoo-parlor scandal that had many college football fans wondering about the validity of his program.
Tressel had a record of 106-22 at Ohio State.  He led the Buckeyes to eight Bowl Championship Series games in his 10 years.
But there were problems amidst the glory.
"After meeting with university officials, we agreed that it is in the best interest of Ohio State that I resign as head football coach," explained Tressel.
Luke Fickell from Ohio State will be the coach for the 2011 season. He already had been selected to be the interim head coach while Tressel served a five-game suspension.
Although most people believed that Tressel would serve his suspension and then continue to coach at Ohio State, the allegations and accusations were too much for the 58-year-old coach.
Tressel's downfall began when it became apparent he had prior knowledge of players receiving improper benefits from the owner of a local tattoo parlor.  The public and media pressure then began to mount on Ohio State and Tressel.
Tressel and Ohio State were to go before the NCAA's infractions committee Aug. 12 to answer questions about the player violations and why Tressel did not report them. He denied knowledge of improper benefits to players until confronted by investigators with emails that showed he had known since April 2010.
Ohio State officials began preparing an appeal of the players' sanctions. It was then that investigators found that Tressel had learned in April 2010 about the players' involvement with the federally-investigated parlor owner, Edward Rife.
A local attorney and former Ohio State player, Christopher Cicero, sent Tressel emails involving the improper benefits, according to national media accounts.  Tressel and Cicero swapped multiple emails on the subject, said investigators.
Tressel had signed an NCAA compliance form in September 2010 saying he had no knowledge of any violations by athletes.
Also on Monday, The Columbus Dispatch reported that Pryor is the subject of a "significant" inquiry by the NCAA and Ohio State regarding cars and other improper benefits he may have received.
Later Monday, Sports Illustrated reported that at least 28 players, 22 more than the university has acknowledged, were involved in exchanging memorabilia for services as far back as 2002, Tressel's second season at Ohio State.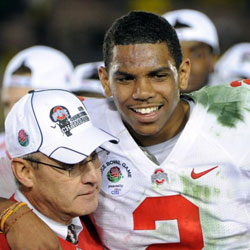 After the article's publication, athletic director Smith issued this statement:
"During the course of an investigation, the university and the NCAA work jointly to review any new allegations that come to light, and will continue to do so until the conclusion of the investigation."
"Coach Jim Tressel has made positive contributions to Ohio State and its student athletes during his tenure," Big Ten commissioner Jim Delany said in a statement. "He has also acknowledged making a serious mistake."
But at one time his image was that of an honest man who always thought before he acted.  His nickname was "The Senator" for always having his integrity above all else.
"As I think back to what I could have done differently … I've learned that I probably needed to go to the top legal counsel person at the university and get some help," Tressel said in an interview with ESPN.
"I don't think less of myself at this moment," he said. "I felt at the time as if I was doing the right thing for the safety of young people."