By Connor Rowe –
Starting as a freshman didn't settle him.
Peter Deluca, a lacrosse goal keeper and a graduate from Penn Manor High School was walking through a high school gymnasium to collect his diploma one year ago. He knew his future would consist of playing lacrosse at Jacksonville University, but Deluca didn't know everything.
What Deluca didn't know is that he would start every game for the Dolphins. He didn't know he would post 169 saves averaging a .508 save percentage. He didn't know he would lead the Dolphins to its first ever Metro Atlantic Athletic Conference Tournament.
The achievements didn't end there for the dynamite goalie.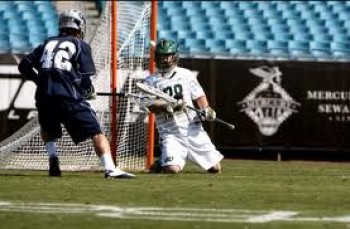 Deluca took on the long-time powerhouse in lacrosse, the Duke Blue Devils on April 30. He posted 20 saves between the pipes. He held the crew to 10 goals on 46 shots.
With 2,043 in attendance at the game, the skill was seen by many.
However, his play was not just witnessed by the fans. The conference selected him rookie of the week for tying his career-high in saves against the Blue Devils. This deserved notice.
The notice delivered, Deluca was selected to try-out for the US under-19 team.
He is just one of 12 goalies along with 122 players overall to be invited by US Lacrosse according to the JUdolphins.com website.
Deluca had much to say on the reward, "I was super excited, it was a huge honor just to be selected for the tryout. Being 18 years old representing my country would be pretty sweet, it would be nerve-racking but I think that having a year of college under my belt will definitely help a lot."