By Simon Zimmerman –
Penn Manor rocketeers strive to repeat.
On May 14th Penn Manor Rocket club will send six different rocket teams to Manassas, Virginia to compete in the Team America Rocketry Challenge, otherwise known as Rocket Nationals.
The team claimed the title last year and looks to retain it once again this year.
Since February, the 25 students of Penn Manor High School and Marticville Middle School have been launching their rockets at Manor middle to try and reach the exact height and the amount of time they have been putting so much effort in for.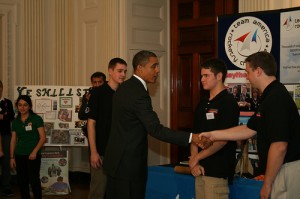 "I can certainly testify to the commitment and hard work these kids have put forth on the weekends at Manor Middle," said Brian Osmolinski, adviser of the Rocket Club.
This year the Rocket Club will have a high of six teams going to compete at Nationals. This is new to the club and has never been tried before.
The six teams consist of:
Team 1: Alex Cauler, Mark Raymond, David Herr, and Jonathan Martin.
Team 2: Maggie McClintock, Jesse Burkholder, Eric Keefer, Jake Schick, and Ian Tahmasbi.
Team 3: Andrew Lobos, Cate Shipley, Gabbie Bauman, and Chris Cuascut.
Team 4: Lars Anderson, Peter Ashworth, Haley Blazer, and Alec O'Rourke.
Team 5: Zach Kauffman, Brendan Woods, and Eric McMahan.
Team 6: Jesse Stoner, Tom Sowers, Wyatt Shiffler, Curtis Herr, and Shawn Stone.
With all of these different teams to judge for Penn Manor, the likeliness of winning nationals once more is much higher.
These higher odds go along with the high expectations.
Tomorrow, the Penn Manor students who are competing in this contest, will travel to Manassas and try and meet those expectations.