By David Mohimani –
Two weeks into May and school is done?
No not in college, but in high school, students taking AP classes often see their strenuous coursework come to an end after they take their AP test in mid-May.
So then what?
Some classes do a variety of things such as take field trips, watch movies and even take food challenges (eating food that is considered difficult to eat).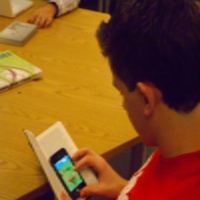 "Absolutely nothing," said senior Katie Maisel of the amount of work she is doing now that her AP classes are complete.
"Food challenges are awesome," said one Penn Manor student who asked to remain anonymous to protect his teacher. "Some don't even seem that hard but you'd be surprised. I went in thinking two sprites and two bananas in half an hour, that's a piece of cake. Boy was I wrong," said the student.
"We've literally watched three movies. Like we finished the third one today," said junior Sara Bennis. "I think it's a lot of fun. We're also doing like, fun projects, like making YouTube videos."
Some AP students aren't as lucky.
"No videos whatsoever. No Shutter Island," said AP teacher Erick Dutchess.
Dutchess's AP students will not be slacking during the final weeks of the school year. "We're doing pig dissections as well as a water quality analysis lab," said Dutchess. He also said that he has not closed his gradebook, so students have to continue to work hard in his class.
Dutchess is rewarding his students a little, however, by taking them to Lancaster County Solid Waste Management Authority.
AP calculus students are not getting any type of break, even after completing their AP test.
"We are learning integration by parts. The blocks are so long, I don't like it," said senior Morgan Fletcher.
"It's really annoying because senioritis has set in and I don't want to do this stuff. Like even in [another AP class] all we're doing is watching movies and it's still annoying,"said Fletcher.
Some may argue that there are more productive ways for students to be spending their final days, but after a long, strenuous year of preparation for the AP test, some feel that taking it easy the last couple of weeks is just rewards.
"It's a reward for the hard work we put in all year. It's only right that we should get to have some fun at the end of the year,"said senior Mark Curtin.