By Blake Wales –
Guns, Grenades and Gadgets….
Call of Duty Black Ops, one of the top selling, first-person shooter games of all time, is back at it again.
Treyarch and Activison have tried to give their players more variety in their most-played multiplayer mode. They did this by initially releasing the map pack "First Strike," which gave the players who purchased it four maps – "Discovery" "Kowloon" "Stadium" and "Berlin Wall."
The pack also included one zombies map "Ascension." But on May 3, they released "Escalation," a map pack which supplies players with four additional multiplayer maps and a zombies map "Call of the Dead."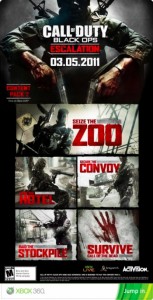 One of the first maps you come across in the new pack is called "Stockpile."   This map is supposed to represent an urban village in Russia but also has a Cold War theme because of the middle building which features armaments. The center building in this map is really the heart and the key location. This building features doors that can be operated from inside the building and outside.
The next map is called "Hotel."  This map is a branch from the Cuban hotel in the original map from Black Ops call "Havana." This map features an operational elevator that allows players to move to different floors of the hotel. This map also provides a lot of places for the players to hide and includes a few flanking points as well.
The third multiplayer map is called "Convoy" which is the scene of an ambush by Soviet forces on a United States convoy.
Snipers will love this map because of the high positions. But this map is also good for "run and gunners" who want to get around the map quickly.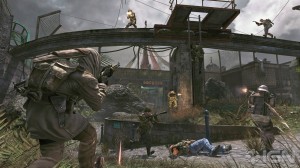 The fourth and most favored map by Xbox players is called "Zoo."
The location is, of course, a zoo.  But not just any zoo, it's an abandoned Soviet zoo. This map features a broken monorail that runs throughout most of the map, an advantage point for players who can advance to this key point.
These maps are available now to Xbox live custumers for the price of 1200 Microsoft points (1600 Microsoft= $19.99). This pack costs the same amount as the first map pack "First Strike."
If you want to learn more about the zombies map "Call of the Dead" you should download the pack and play it. Hopefully you can survive to talk about it.