By Jay Jackson –
After shaking off a couple disappointing losses, the volleyball team had really hit their stride.
With the regular season coming to a close, these two games will be crucial in deciding who gets second in the section and if everything goes Penn Manor's way, second in the league.
"I think we are playing well. We are coming together as a team and we are playing like it," said Devon Reis a sophomore middle hitter.
Led by junior twins Dylan and Cheyenne Weber, the Comets are picking up their game with a very important week coming up when they play Hempfield and Ephrata.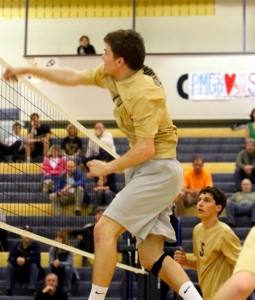 "Cheyenne is doing a really good job spreading the ball around and tricking the blockers where the ball is going," said Reis.
Dylan Weber, having a first team all league year, is leading the Lancaster-Lebanon league in kills and doesn't seem to be looking back.
"If we get in the opponents' head we will keep our streak going into playoffs," said Reis.
The Comets hope to ride their five-game winning streak into the last week of the season and clinch the number two spot in the section.
"If we keep second in the section, we won't have to play Hempfield as soon in leagues," said Reis.
The Comets have improved to 7-2 in the section and 8-3 overall after last weeks victory over Cedar Crest.