By Lizzie Pflumm –
Ready…set.. Hike!!
The Academy of Football has come to Penn Manor.  Head football coach Todd Mealy has an upcoming program to teach some special interns the essential things about being a part of a football team.
"We are teachers first," said Todd Mealy, when explaining in detail the nooks and crannies of being a football coach.
"Every coach on the staff has had someone to look after them at some point. Starting young has given me opportunities," Said Mealy who began head coaching at 27 years old.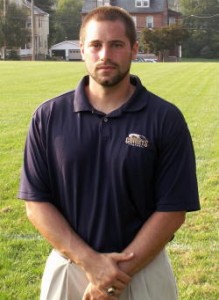 "One thing we (the coaches) learned with the exception of one year (2009), the players have been very green (inexperienced)." said Mealy.
This program can evolve to more than just a coaching future for these interns but turn them into professionals when it comes to being a businessman or businesswoman, according to Mealy.
Not only will this academy teach the interns the ins and outs of football but it will teach them many skills needed in life and for future jobs. They will learn organization, time management, responsibility, leadership skills in both conducting a football team and in daily life.
Interns will learn to conduct practices, motivate teens, manage the football website and film games and practices.
Having interns will free up times for coaches who may have other priorities in life like a family. Local students without family responsibilities are most likely to apply.
"The need to have patience, an open schedule and flexibility," said Mealy.
This internship opportunity is offered to everyone, high school students, college students and parents. Both men and women are welcome to apply but the two most dependable interns will be selected. This will be based off of flexibility, commitment and references.
Applicants will be picked by May 16.
"We would be very proud to have a woman involved in the program," said Mealy who mentioned Natalie Randolf who coaches at Calvin Coolidge High in Washington D.C.
As of now, no one from Penn Manor has applied but Penn Manor has had its share of alumni that have come back to volunteer. Mr. Eck, a history teacher at Penn Manor has been involved with the team. Zach Fisher and Micheal Trier, graduates from Penn Manor have both helped out volunteering.
"We want the football program to inspire," said Mealy.
If interested, applicants should email Mealy at todd.mealy@pennmanor.net.