By Alyssa Byers –
What has two legs and is unnaturally tan in the winter? Hint: sometimes the species can be seen in the halls of Penn Manor this time of year.
It's unnaturally tan girl or tan boy.
Tanning has become a sensation, whether it's during the windy months of fall, the cold days of winter or on the warm nights of spring. But why are teens doing this when the dangers have been so well advertised?
In fact, the American Academy of Pediatrics has decided to back up legislation in the making banning teens from using tanning beds. They said that the radiation produced by tanning beds could be worse than what the sun gives off.
But many teens have decided to disregard that advice, concentrating instead on their more pressing  problem of pale skin, using tanning beds day and night. Can tanning become an obsession?
"I think it's okay to do for special occasions, or once in awhile," said Jenna Santaniello. "But I don't think you should do it all the time because it can start to look unnatural and it can be dangerous."
According to a study compiled by dermatology researchers, not only is tanning dangerous, but it can also be addictive.
According to a study published in the Archives of Dermatology, the ultraviolet light makes our brain release endorphins, a feel good hormone. This helps contribute to some people's addiction with tanning. The article also said that some may use tanning as a way to reduce stress, and is often the reason why they do it so much.
However, the study also pointed to research saying said that excessive tanning may cause anxiety and depression, and increase drug and alcohol use.
Seniors Sam Adams and Leah Freeman both think tanning can be addictive. Adams used to tan every other day, and Freeman tanned a couple times a week. Adams said she tanned so much because she didn't like being pale.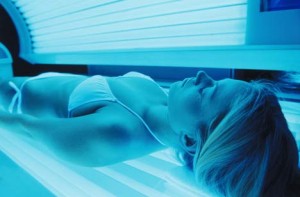 This could explain why so many people continue to tan even after hearing about all of its health risks. Cancer and wrinkles are two major symptoms of tanning, but many, including Adams, admit to ignoring the risks.
"I think it can be addictive because people feel the need to feel pretty by matching the definition of beauty which is bleached blonde hair, blue eyes and dark tan skin, when in reality the typical American beauty is not the only beauty," said Eric Bear.
"I don't tan mid-winter because it looks unnatural, but when I start tanning in the spring it's very easy to get addicted because it's relaxing, and who doesn't love a good tan?" said Melissa Martin.
It seems, though, that cancer isn't the only thing groups like this should watch out for.