By Corbin Gillichbauer –
Facing expectations and capitalizing.
Coming back from a great year, Penn Manor boys baseball has a lot to live up to. Losing eight out of the nine starters last season, the baseball team has a lot of inexperience and will face some challenges this season.
Jim Zander coaching Penn Manor varsity baseball for 16 years now says he has great expectations from his players to step up and fill the places of those seniors who left.
Coach Zander has led his team to districts seven times in the past eight years coaching.
"Some kids show the desire to play baseball some do not. I expect everyone to be first class in practice and working hard in everything and have pride in their work effort," said Zander
The high school team started out with 32 kids at morning weight room, now since the season is about to start it has dwindled down to 22 kids, according to Zander.
This shows the dedication to the baseball program with players getting up and lifting before school even starts.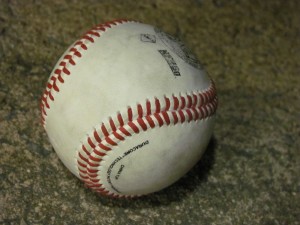 "We are going to be a gap power alley team this year," Zander predicted.
Hitting the baseball, between two of the outfielders, is a hit in the gap.  Zander expects his players to do it over and over again this season.
"Some guys can hit home runs but some guys can't, we just have to work on eye on the ball," said Zander.
Streeter Stuart, the Penn Manor baseball pitching coach for 14 years, is expecting an uneasy season with his pitchers.
"We have nice pitchers but not a single one of them is a varsity pitcher that gets those strike outs deep in the count. The pitchers need to be accurate," said Stuart.
Zach Buterbaugh the starter right fielder last year for Penn Manor, gives information that provides great wisdom for those playing baseball.
"Not sure on how the team is going to fare, since there is only one to two players that have had the varsity experience. What I think my ace is this year doesn't even show up for weight room and open gyms," complained Buterbaugh.
"Don't worry about how strict the coaches are,  just have fun playing baseball and relax," added  Buterbaugh.
It sounds like it is going to be a hard season for the Penn Manor baseball boys, but with hard work and determination anything can happen.