By Sam Valentin –
Call her DJ PJ.
Most people know her as Mrs. PJ Peters, the secretary. But what most people don't know is she also controls the music that periodically fills the halls of Penn Manor.
The hallway this year has become filled with the cacophony of noises and voices instead of past years when the music overpowered the usual sounds.
"It was love is in the air day yesterday," Peters said of her most recent music selection.  "Michael Buble was played for spirit week."
Music was played for what some believe the first time this school year for spirit week.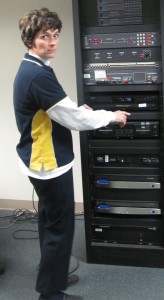 "A lot of students commented," said Peters about students reaction to the music Thursday,"  She added, "People missed the music.
"I was really busy early in the year," says Peters.
She said she was too busy to play music earlier this year. But she hopes to start playing more music especially when she's not busy.
"I think kids enjoy it [music]," reflected Peters.  "Most people like the fact that we have music here at Penn Manor and are used to it but students say jazz wouldn't be their first choice but  'it could be worse' is the general response.
Peters noted that all music is approved by Principal Phil Gale.
Of course only school-appropriate lyrics are allowed which may be the reason jazz is a popular selection – mainly instrumental.
Don't expect anything but instrumental music in the halls in the near future but expect it on Tuesday according to DJ PJ.