By Connor Rowe –
The Penn Manor (12) basketball squad prepares for Red Land (6) in their first playoff appearance this year. The game will take place Wednesday, Feb. 23 at Red Land, Lewisberry, Pa. at  7 p.m.
Penn Manor will be the true underdog in this matchup statistically, but Comets senior, captain, fan favorite and point guard, Brian Ramsey, sees the game differently.
Ramsey said he can't wait for the coming contest.
They've got some big boys, but we are ready for them," Ramsey said.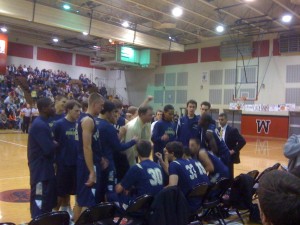 Red Land has two 6-11 players, Mike Zangari, a junior, and D1 commit to La Salle, senior Steve Zack.
Manor has a plan to get around these so-called, "big boys."
"We have two new defensive sets and offensive play to move their big guys out," said Ramsey.
Another way of achieving success by the Comets is by scrimmaging Manheim Township High School's basketball team,  where they executed their new tactics.
Brian Ramsey closed with, "I think we have a very good chance to win; (coach Charlie) Detz has been preparing us well. Everybody wants to win."