By David Mohimani, Sarah Schaeffer, Morgan Fletcher, and Simon Zimmerman –
Briana Reisinger and Tatiana Roman contributed to this report –

Ahhh… Valentine's Day.  Hearts.  Romance.  Love.  Most, but not all Penn Manor students "love" this time of year. They celebrate it in different ways.
Some Penn Manor students are sending their Valentines lollipops.
"I like it especially if I'm in a relationship," tenth grader John Machado said.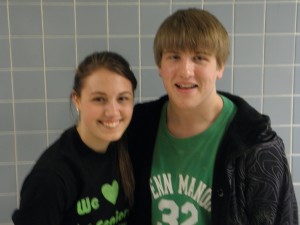 Machado enjoys the gift-giving aspect of Valentine's Day.
"Yeah, I'd like some chocolates," he said.  Machado is planning to get someone a Valentine's Day present this year but he's not sure what he'll get yet.
Bianeara Galarza is also in favor of the perks that come with having a significant other on Valentine's Day.
"I like it. I'm going to spend it with my boyfriend," Galarza said.  She's planning to get him an outfit and she would like some clothes from him.
Also on the topic of spending, USA Today recently recognized the growing use of social media by big companies to promote Valentine's Day.
Mattel, the maker of Barbie and friends, has created an entire online relationship dispute between Barbie and her ex-boyfriend Ken. The public can log on and see the ongoing arguments and vote whether they think the couple should or should not get back together and also purchase Barbie and Ken merchandise.
Similarly, Victoria's Secret is offering online e-Valentines. Senders can select photos and messages to send to their loved ones.
They can also include a link to the gift they wish to receive.
Mulberry, a British clothing maker, is offering virtual flowers. The flowers wait to bloom until Valentine's Day, but on Feb 14, when recipients click on the flower, they are treated to a beautiful bouquet.
Valentine's Day is not so sweet for everyone –
Valentine's Day is not always all fun and games for couples, however; sometimes they break up.
The thought of Valentine's Day in general is enough to send some people into a sour mood.
"It's  a day that reminds you that you're alone," said senior Katie Breneman.
Students at Penn Manor have heard and delivered the best (or worst) break-up lines and have shared with Penn Points in the spirit of the season.
"'I'm not ready for a relationship,'" said Jesse Nogueras, regarding to what most people say when they want to break up with someone.  "But they only said that because they wanted somebody else."
"You've changed" is a line Kyle Lively admitted to using in a past relationship.
"I heard one that this girl used on this guy, 'you're shorter than me,'" said Dezire Diaz.
"My cat doesn't like you," Tori Ressler recalled hearing.
Regardless of the words, it is agreed that over-text break-ups are unacceptable.
"Anything over a text [is not okay]. It doesn't matter whether it would be good or not in person," Tom Sowers said.