Notice the headline says "weight lifting," the funny thing is many people don't even understand what weight lifting is. Even when they think they do.
"Just going in the weight room and pumpin' iron," said Tanner Kennedy.
"Picking up some dumbbells in the weight room and starting to work out those biceps," said Mark Curtin.
In reality, weight lifting involves only two lifts performed by the lifter. The first is called a "snatch" and the second is called a "clean and jerk." Both of these lifts are performed at competitions where the best lifter in an age group and weight class take first place.
The team is on the lookout for athletes willing to try this challenging sport.
The weight lifting team now consists of two boys and three girls.
"We are always open to new lifters who are young and ambitious," says Zajac.
The team has been around for many years. Russ McDonnell was the coach for multiple years. Currently, coaching the school's weight lifting team is Jon Zajac. He is Penn Manor's strength coach and now is coaching both a weight lifting and power lifting team for the school.
Several years ago, both the power lifting and weight lifting team were combined with Solanco because the sport was not very popular as it was and both schools had very few athletes involved in it.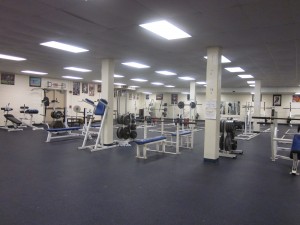 Power lifting is much different from weight lifting. Power lifting if what most athletes do when they open the weight room doors and start "pumping iron." Power lifting incorporates three lifts: Dead lift, bench press, and squat.
The power lifting team isn't really present anymore due to most of the lifters graduating and some becoming injured. But the weight lifting team is very much alive and looking for new talent.
Jon's current goal is to get someone on the team to qualify for a national meet.
The team doesn't go to many competitions anymore because they are very young and Zajac doesn't have much time to take lifters.
"The team is very good and has always been good. We plan to keep improving," says Zajac.
The weight lifting team normally lifts on Monday, Wednesday, and Friday.
By Dillon Walker