Dancing.
Stunting.
Working out.
What exactly is a real sport? Cheerleading definitely has all the qualities of a sport such as strength, agility, endurance, teamwork and competition. Many say that cheerleading is nothing but a distraction to real players. Others say that cheerleaders have what it takes to be real athletes.
Cheerleading does meet the dictionary definition of a sport. Going behind the miniskirts and the glittery makeup, you will see a very strong athlete who has confidence, courage and a high spirit.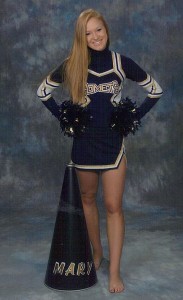 Cheer practice will usually last around two hours every day, depending on the school. Practices include exercising and stretching, developing a dance routine, tumbling and of course cheering. The length and intensity of the practice is comparable to many varsity sports practices.
Cheerleaders at competition and cheerleaders at football games are very different. Sideline cheerleading at a high school football game? Not a sport. Professional cheerleaders at NFL and NBA games? Not a sport. Competitive cheerleading with tumbling, stunting, and dance that requires stamina, strength and endurance? A sport. The miniskirts and pompoms are just uniforms.
At competitions, cheerleaders show off everything they have learned while representing the school they attend. It's just like every other athletic sport, giving 100 percent effort, and showing what they are made of.
Competitive cheerleading can be seen on the sports programming network (ESPN).
The skills involved in cheerleading leave no doubt that cheerleaders are exceptional athletes. To perform their activities, they must be as strong as any football player, as poised as any dancer and as flexible as the best gymnasts. They are athletes by every definition of the word.
Cheerleading is definitely a real sport.
By Mary Treier