"I'm so sorry."
Those words were senior Penn Manor tennis player, Holly Mancinelli's, to her head coach, Diane Vickers, after losing one of her matches.  But so far this season, this has been a repeat story of Penn Manor girls' tennis.
Having only one returning varsity starter from last year may have something to do with it.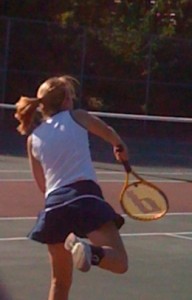 Penn Manor hopes to improve on their record (currently 1-4) by "working hard" but yet "having a good time because that's half of it too," Vickers said.
On top of the list at number one, and the lone returning varsity starter from a year ago, is Janine Haberstroh. Last year she was number three on the team and shot up to one after four of the top five girls, Brittney Miller, Sydney Durenburger, Alissa Zikmund and Christi Wertz left Penn Manor as seniors last June.
Although Haberstroh may have a lot on her shoulders, head coach Diane Vickers has high hopes for her top player.
"She should be able to do very well," Vickers said, noting she has a 2-1 record so far in both singles and doubles.
At number two on the team is senior Maeve Snyder, who played junior varsity tennis last year and has earned three total wins this season – one in singles, two in doubles.
Next on the list is Mancinelli, working hard, but waiting to post her first win so far in the season.
"She needs to step up and win some," Vickers said, knowing that Penn Manor's schedule ahead is challenging – especially with Manheim Township and Hempfield "right at the end."
"Those are the two big ones," Vickers said, referring to Township and Hempfield who are at the end of Penn Manor's season, a season that is very short with multiple matches mashed into a short amount of time.
Vickers said it is "hard to breathe" with two or three matches a week and still practice in the meantime.
At number four sits Natasha Fletcher, twin sister of Morgan Fletcher (who also plays and is just out of the top five).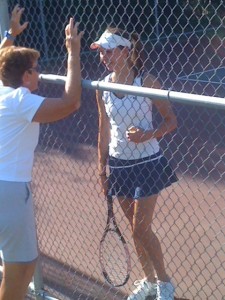 Vickers said of Natasha: "she's doing well" and has earned herself one doubles win although still looking for a singles win this season.
Ella Perry won her challenge matches against Elena Hart, Laura Revelt and Morgan Fletcher, who all round out the top ten, to earn the fifth and final varsity spot. Those challenge match wins against her own teammates are her only wins so far this season.
All top five varsity players are seniors this year so, again, there will be a lot of empty spaces to fill a year from now.
The sixth and seventh spots belong to junior Emily Sisson, and freshman Katie Carle.   Carle  has become a "pleasant surprise" in Vickers' eyes, and is one the top freshman on the team. A glimpse of hope for the near future?
Vickers believes so.
By Alex Geli