Live from the Whitaker Center in Harrisburg, it's the Penn Manor Brain Busters team.
Along with their coaches, Sallie Bookman and Chris Meier, team members Grant Elledge, Brendan Stoeckl, Lars Andersen, Henry Stewart and alternate Christine Sharp have high hopes for the final round against Hershey on May 27.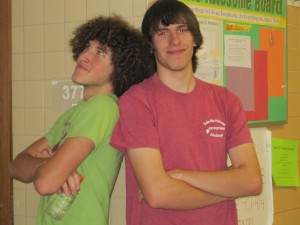 "This is our third year [in Brain Busters] and we didn't [win] the past two years. This is a big deal," said Elledge.
If the team dominates after the 10-point first round, the "One v. One" second round, the "Point Wagering Section," the "Pick a Topic Section" and the 20-point final round, they will receive $7,000. If the team takes second place after the hour long competition, they will receive $4,000 and one $5,000 scholarship to Shippensburg University.
Bookman said, "The money won't go straight to the kids. We have to determine what to do with it."
Along with the normal pressure of having to perform under a timer, the team must focus even harder on what they say, since the broadcast is live and it can't be edited. There's even a section where team members can get up and speak about a topic.
"The section's not scripted, so you can say whatever," said Stewart.
However the team is not too nervous about the knowledge aspect of the match.
"We've done so well because we are even. We have four different people with four different strengths," said Bookman.
"I know when it comes around, I'll be ready," said Elledge.
The hardest part about being on Brain Busters, it seems, is getting fans to come out.
Elledge said, "We really want people to come. We're trying to have buses for people."
The Brain Busters final round, hosted by Rich Rosen, airs live on WGAL May 27 at 7 p.m.
By Sarah Schaeffer