The Orange improved to 7-0 against ranked teams with a win over Villanova Saturday.
With the top ranked teams losing earlier in the day, it meant that if the Orange beat Nova they could be ranked number one for the first time since the 1989-90 season.
Jim Boeheim didn't want to talk ranking.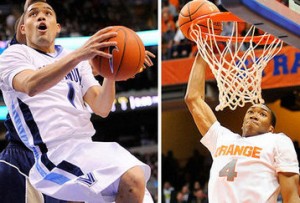 The cats came out with an early lead and kept it till the Orange went on a 15 – 7 run to take a 10 point lead to end the first half.
Nova never recovered from the first-half deficit with the Orange taking the easy victory, 77 to 95, in front of the record crowd of 34,616 on their home floor.
The Orange big men were the difference makers in the game with Rick Jackson scoring 19 points and grabbing 8 rebounds, Arinze Ounaku had 17 points and also cleaned the glass with 9 boards.
With the win, the Orange locked up a one seed in the Big East tournament and moved one step closer to solidifying a number one seed come March. The win also guaranteed them as the Big East regular season champions.
Novas star guard Scottie Reynolds still scored 16 points and was relatively quiet.
With two games remaining in the regular season for the Wildcats, they may still be able to get a good seed come March and could meet the Orange again in the Big East or NCAA tourney.
The Orange with two games remaining, and looking very strong, will be tough to beat in March in the upcoming Big East tournament. The Orange's future could be filled with greatness but the same could be said of the Wildcats.
The poll gets released Monday and with the top three teams picking up losses this week and the Orange picking up a very sweet win, Syracuse should be ranked number one.
By Sam Valentin