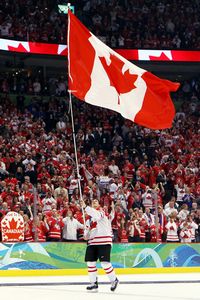 By Sam Valentin-
It depends where you live, the United States was hoping for the second upset in U.S. mens hockey. But just miles away, Canadians everywhere got their way when the Canadian National team scored first in the sudden death overtime victory over the U.S. Sunday on Canadian ice.
The U.S. achieved more in just being against the hockey machine, in the gold medal game because most analysts had the US team finishing fifth in this year Olympics and being able to force overtime.
The U.S. even defeated the highly ranked Canadian team a week ago.
Jonathan Toews scored early for Canada going up one-nill against the scrappy, young U.S. team.
Canada scored again in the second period when Corey Perry cleaned up a breakaway chance.
But no shut out because the U.S finally showed up almost 13 minutes into the second period off a shot by forward Patrick Kane that got deflected into the back of the net by Ryan Kesler to make it into a game.
The U.S had so many scoring chances because Canadian goalie Roberto Luongo couldn't cover up the puck leaving the U.S. with a plethora of great rebound chances in front of the net.
The U.S. finally capitalized when a shot by Kane ricocheted off of Luongo and U.S. forward Zach Parise was in front to tie the game up with 25 ticks remaining in regulation.
The U.S. wasted the clock out after they got the puck and with momentum and all the U.S could taste the gold heading into overtime.
United States filmmakers were already thinking about a sequel to a miracle on ice.
But then Jerome Iginla passed the puck to Sidney Crosby and with a flick of his wrist and only 7 minutes and 40 seconds into the most watched game in Canadian history was ended.
He didn't even know it went in; he was just trying to get off a quick shot said Crosby to ESPN after the game.