This year the members of the Young Humanitarian League are giving a gift that goes way past candy canes and wrapped boxes.
On December 22, the club reached their goal to raise $5,000 dollars to buy an ark from the Heifer International Foundation. It took merely 364 days to achieve it.
The ark is going to be filled with fifteen different sets of two animals, and it is being sent to countries where people are less fortunate.
This is enough incentive for the students of the club to do all they could to raise money.
"[We did this] to help countries that are economically worse off than we are," says Chloe Reisinger, a senior at Penn Manor and the Vice President of the Young Humanitarian League.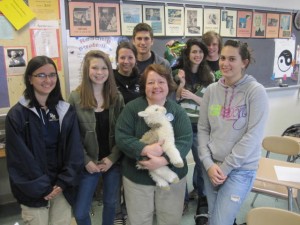 Reisinger had been the one to suggest the idea of giving an ark, instead of just an individual animal. The class studied Africa and poverty and they started thinking of something they could do to make a difference.
Reisinger said she is extremely happy and very proud that they made it to their goal.
These students are looking past the smaller picture of high school, and into the bigger picture of the whole world.
"When we heard about the project we were excited to do something for people less fortunate," says Will Shipley, a senior at Penn Manor and also the club's president.
The club held several fundraisers such as sub sales, selling gummy bears and animal crackers, and simply promoting the club with signs around the school. The sub sale was organized by Ambria Armstrong, a member of the club, and her mother, Jaymi Armstrong.
Now that they've reached their goal, club members plan to continue to do fundraising projects, however they might focus their efforts to a new cause. They are going to pick a project on Kiva.org, which has micro-lending, and they could find someone to donate their money to. This money could help someone in a poverty-ridden country to start a business and help them move forward in their lives.
The Young Humanitarian League has gone above and beyond with this project, and they're going to continue to change the world.
By: Abby Wilson