Wednesday night into Thursday morning, in the Millersville area, high winds ripped through the county hitting Penn Manor High School's overpass and caused extensive damage.
School officials say that there is no structural damage, only cosmetic, and the overpass may be repaired by the end of the day, Thursday.
"Yes insurance covers it all," said dean of students, Eric Howe.
According to a weather website in Millersville, Pa., the wind gusted up to 26 mph during Wednesday night's storm.
A good portion of the bottom of the overpass was blown off and pink insulation is exposed. Debris was strewn across the high school's main entrance. Workers blocked off the area underneath the overpass with cones and detour signs on saw horses.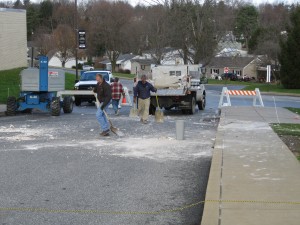 School officials say the overpass is safe for students to walk across from one end of the building to the other.
"No (it's not dangerous) not at all, unless walking underneath it, you must wear a hard hat," said Howe.
Although this had never happened before, the school officials are confident that this will be fixed to prevent it from happening again. "But you can never tell with the weather," said Howe.
According to WGAL news site, South Eastern School District dismissed before 11 a.m. due to power outages, most likely caused by the storm while Lampeter-Strasburg School District had a two-hour delay due to power outages as well.
"Were a lot tougher than L.S., we decided not to cut off school," joked Howe.
By Cassey Graeff and Alex Blythe