Vomit in the halls, stopped-up bathrooms, iced tea plastered to the floors, and locker rooms completely engulfed in mud. Whether it comes to cleaning up bodily functions or just paper and plastic, that's a day in the life of "Janitor John."
John Wealand, school custodian for 14 years, has been tidying up the halls to make them sparkle and shine. But does he feel appreciated?
"In some cases, everyone feels unappreciated. I personally feel appreciated," said Wealand.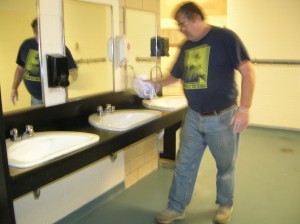 Wealand said, more teachers have been grateful for the custodians throughout his years here than the students. As they grow older, more and more students start to become more mature and they don't always take things for granted.
"(I feel) appreciated by teachers, but not the student population, they got mommy to look after them," joked Wealand.
Whenever people from other schools or parents visit the school, they comment on how neat and clean it is. But some students deliberately make messes just so they can have the custodians clean it up, Wealand explained.
"When you see someone deliberately make dirt, it makes you feel like you could crush them," said Wealand
A lot of students may think that school custodians do most of their work during the school year, but it's the opposite, according to Wealand. They do most of their work in the summer. The janitors have to strip every room down so that nothing is in it and then make them as clean as possible. It may sound like it's not much work, but there are tons of rooms in the school and they can't skip a single one, Wealand explained.
Most of the work done during the summer break and during the school year is done alone; however he doesn't mind it, sometimes he even has a partner in crime.
But he doesn't mind working by himself.
"I find it's the only way I can have an intelligent conversation," Wealand laughed.
Some benefits to being a school custodian, according to Wealand, are when former students come back to visit and they stop and have a chat to see how everything's doing.
"That makes you feel appreciated."
By: Jake Shiner and Alex Blythe