By Sam Valentin-
The Lancaster Barnstormers have evened up the best of five series with a 6-1 victory over the York Revolution Sunday night at Clipper Magazine Stadium.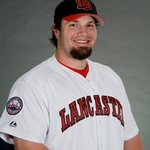 The possibility of a game five seemed unlikely to players in both clubhouses about four days ago when the Revs' were in control of the series after two quick wins in York.
For some reason the Barnstormers strong offense went dormant when the playoffs started. But even after going down two games to York, the Barnstormers never lost focus or energy.
"I told them they were destined to win it and I still believe that," Lancaster manager Butch Hobson said of his team after their game two lost.
And then the 'Stormers came back east of the Susquehanna, found their bats and went back to their winning ways taking two in a row from the Revolution.
Game three was a masterful pitching performance from pitcher John  Halama. He led Lancaster to a 5-1 win with help from Tommy Everidge, Travis Metcalf and Terry Tiffee who all sent balls flying over the outfield fence.
"He was outstanding," Hobson said in an interview about Halama who threw 112 pitches, surrendering a lone run and only giving up two hits over the course of the entire game.  "He's a big-game pitcher."
In game four, Matt Wright was on the mound and followed in Halama's footsteps Sunday night with a great pitching performance in his return from a left knee injury. He allowed one run, giving up only three hits to the Revs' over six innings pitched.
Tonight the 'Stormers look to win game five which they knew was theirs from the start.
"After we win three at home, you guys can say Butch knows what he's talking about," said Hobson "We're going to go home and win it in front of our fans. That's what I wanted to do."
They hope to do just that tonight at Clipper Magazine Stadium at 6:30pm in front of what they hope is a huge crowd that can witness history.