By Sam Valentin- 
This time the Barnstormer's did not have to wait until the ninth inning to produce runs.
Lancaster came out swinging last night in their home opener scoring four runs in the first inning. While in their previous two wins against the Blue Crabs they had to rally in the final frame.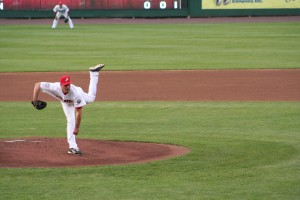 In front of a sellout crowd of 7,088, the stormers started off a very strong offensive night. In the first inning, Somerset pitcher, Doug Arguello had a tough outing not even retiring a batter before his night was ended. The Stormers bats came alive early to get four runs to make the score four to one.
They never looked back.
"I like when we can get off early like that," 'Stormers skipper Butch Hobson said.
Although Stormer's starter, John Halama did give up an early run in the first, he only gave up another run. Only one was earned. Halama (1-1) earned the win for the Barnstormers, allowing six hits and two runs (one earned) in a six-inning quality start. The bullpen combination of Beau Vaughan and Ching-Lung Lo pitched a no-no for the rest of the outing.
"The big thing is getting stretched out," said Halama, who threw 84 pitches. "Hopefully, next outing I can get close to that 100-pitch count."
The Barnstormers scored their final three runs in the fourth inning off of Somerset's, Mike Solbach. Kody Kirkland blasted a solo shot to lead off the fourth. It was his second of the season. Adam Goodwin scored off a passed third strike to Terry Tiffee. Jesus Merchan who went two for five on the night doubled down the third base line to end the offensive storm.
The Pat's scored another in the sixth off of a laser double by slugger Jesse Hoorelbeke. This ended the scoring for the night.
Lancaster will send J.D. Durbin (0-0) to the hill on Wednesday evening against right-hander Mike McDonald (0-0) for game two of the three game series with the Patriot's. The game is scheduled to start at 7:00 p.m.
In note: Leasean McCoy threw out the ceremonial first pitch to start off anpother baseball season in Lancaster. He was there promoting his foundation, the Lesean McCoy Foundation. His appearance was to raise money and awareness for ALS. McCoy's grandmother recently succumbed to ALS and the LeSean McCoy Foundation is set up to help battle the disease. He will also be having a football camp at Penn Manor this summer through his foundation.
The Barnstormer's recently signed outfielder, Brandon Haverman who has spent some time in the Mariner's system after graduating from Purdue.
Also last years Freedom division MVP, Tommy Everidge recorded his first hit last night in the win.