By Cavan Zechman
The new school year brought more than just new freshmen to Penn Manor High School. The high school employed five new teachers for the fall semester of the 2016-2017 school year, some being full-time positions. These teachers include Mr. Ben Schober, Mr. Joshua Barben, Mr. Shawn Lassiter, Mrs. Lindsay Feger and Ms. Courtney Heiser.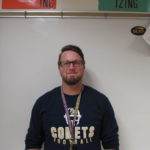 Mr. Schober was hired to teach sports medicine and ninth grade health and physical education in place of Mrs. Kramer for the fall semester. He enjoys the other educators of the physical education department.
"I'm very grateful to have such a supportive team of educators around me in the phys ed department," said Mr. Schober, who has been subbing and coaching at Penn Manor for the past few years.
This is Mr. Schober's second long-term substitute position; he was previously employed as a phys ed teacher in spring 2015 at Carter & Macrae Elementary in the School District of Lancaster. He also coaches the Penn Manor track and field team, coming up on his fifth year, and is in the middle of his second year of coaching the football team.
In his free time, Mr. Schober likes to stay active and go outside for hikes, climbing his first two mountains this past summer. The Baltimore Ravens are his favorite football team, and he also likes the Boston Red Sox, Celtics and Bruins for baseball, basketball and hockey.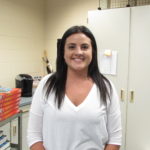 Ms. Heiser is now teaching Intro to algebra A and Intro to algebra C in the high school. Ms. Heiser was notified about the opening of the teaching position here at Penn Manor by her former principal after long-term subbing at Lampeter-Strasburg last year. This is her third teaching job after teaching in York City for a year and at Lampeter-Strasburg.
Penn Manor has been helpful to Ms. Heiser so far.
"I enjoy how the math department at Penn Manor is big on working collaboratively, and I have found it very helpful," she said.
When she is not teaching, Ms. Heiser enjoys reading, shopping, and spending time with friends and family. Her favorite sports to watch are football and baseball, especially the Philadelphia Eagles and the Baltimore Orioles.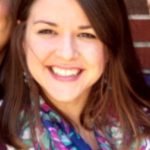 Mrs. Feger teaches English full-time and was notified of this job opportunity when her husband, math teacher Mr. Feger, told her about the open position. She had to teach a lesson to a group of tenth graders as part of her interview before she got the job.
"Interviewing at Penn Manor is no joke," Mrs. Feger said.
This is her second full-time teaching job, previously teaching at the district of Annville-Cleona. The welcoming environment of Penn Manor is what stands out to Mrs. Feger, as well the 1:1 student laptop program, which she said has made her teaching better.  
Mrs. Feger loves to read, travel and spend time with family and friends in her free time. She likes to watch all sports, but currently watches golf the most. Her favorite teams include the Philadelphia Eagles, Baltimore Ravens and the Boston Red Sox.
Two additional teachers joined the Penn Manor staff this year. Mr. Barben teaches history and Mr. Lassiter teaches music.