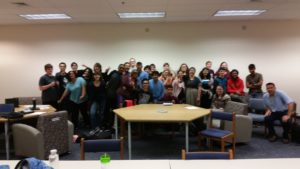 By Alexander J. Drain
Almost 40 people were crammed into the library's Distance Learning Lab this Wednesday during the first meeting of the Anime and Manga club. Passions were high as people finally had a chance to meet with people who shared their interests in Japanese art and animation.
English teacher Mr. Scott Hertzog and senior Abigail Purdin founded the club explore Asian culture through anime and manga. During club meetings, students will discuss and watch anime and connect themes from them to Asian philosophy.
Mr. Hertzog wanted to make the club after he ran into "fans of anime who didn't really have a place to connect." Mr. Hertzog gained an interest in anime when he and his daughter started watching it several years ago.
Purdin has also had a strong connection with anime for the majority of her life.
"Ever since I was a little kid, my dad watched it all the time," said Purdin.
Mr. Hertzog stressed that the club is meant to be a safe place for people to discuss their personal taste in anime or manga without harassment.
The first meeting consisted of a meet and greet involving people writing down their favorite anime and manga as well as what they expect from the club.
The club will continue to meet on Wednesdays throughout the school year.