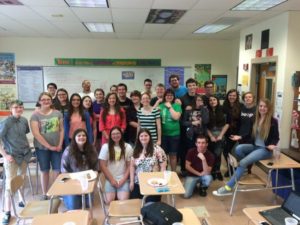 By Kayla Valentine
A popular club is no longer meeting, which to some students might come as a shock since Creative Writing Club has been a success since it started.
Due to her responsibilities as class advisor for the class of 2018, English teacher Mrs. Lisa Mayo has decided not to run the club for the next two years. Mrs. Mayo started the club in Fall 2011, and she has every intent of bringing the club back.

"I'm very sad. I'm going to miss that time with talented students, but I have to think of my own sanity," said Mrs. Mayo. She hopes kids will keep writing and posting on Penn Manor Expressions.