Combine a Van Gogh masterpiece, tiny bits of multi-colored glass and high school art students. What could that possibly amount to? Chaos? What about a multi-thousand dollar project to decorate a school wall? In this case, that's precisely what you get.
Since last year, Penn Manor art teacher, Mrs. Teri Hay, has been diligently working to create the latest artsy addition to the high school. A mosaic mural of Vincent Van Gogh's "A Starry Night" will decorate a retaining wall in the Penn Manor courtyard.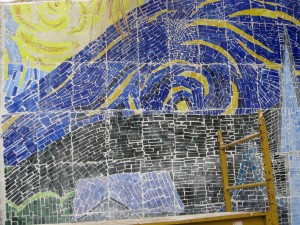 This mural is a rather pricey project and Hay has written proposals and received grant funds from the Penn Manor Educational Fund. Not only have supplies, such as the colored glass, needed to be purchased, but a consultant needed to be hired. In order to achieve a basic understanding of mosaic creation and mural creation, Mr. Mike Bovie, of Lancaster Stained Glass, was brought in. He was able to explain to Hay and her students how to create a substantial outdoor mural. The outdoor factor also added to the overall cost of the project, since the wall needed to be prepared to withstand the seasonal weather changes.
Last year, Hay's art classes began and completed the design for the mural. They created cartoons (15"x10" panels of the design) for each section of "A Starry Night." The classes selected shades of glass and began cutting it into the needed shapes. They were also able to get the first section, section A, up on the wall. Hay said the most difficult parts of these beginning processes were the organization and visualization of the finished product.
"You don't know what you don't know," says Hay.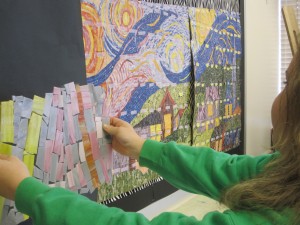 Continuing where the classes of 2008-2009 left off, this year's classes have started work on the mural as well. They have placed the glass pieces on the cartoons, really bringing the bigger picture together. Throughout this school year, each of Hay's classes will get the chance to work on the project for a week.
Grace Gundel, a sophomore who has already had the opportunity to work on the mosaic, says that this project is "a great way to creatively bring together the art students of Penn Manor."
Hay optimistically hopes for the project to be finished sometime in October 2010. Her secret to efficiently accomplishing this goal?
"Keep a positive attitude."
By Sarah Schaeffer