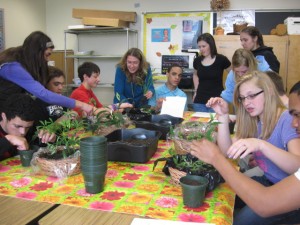 By Michelle Zercher
When most people think about an agriculture class they think, "oh, all they do is learn about farming." Well, that is not true. Agriculture classes are incredibly beneficial classes for any student to take while they are in high school. They teach students skills that will be helpful for them as they continue their lives as adults.
Honestly it all depends on the classes you take. For example if you are interested in engines, you can take engines one and two, and if you are interested in flowers or plants you can take horticulture and floriculture. You can also take the agriculture science classes that are offered. You will learn a variety of things like how to write checks, keep a budget, get a loan, balance a checkbook and many other things that will help you later in life. Agribusiness is another class that the ag department offers. You will learn about different types of businesses, create your own business plan and help run the fruit sale.
Agriculture classes are not ones that you can screw off in and expect to get a good grade. I'm not saying that you will need to study like you do in an AP or honors class, but you will need to actually pay attention in the classes to do well. There is time for talking and independent work almost everyday, because the teachers give you an assignment and you are responsible for finishing it.
One skill that is stressed in ag classes is public speaking. Katrina Reiff, a senior at Penn Manor High School, said that the most important things she learned in ag were, "how to present myself in interviews and prepare for my future."
The agriculture teachers want you to enjoy the class, but they also want you to be able to buckle down and learn what they are trying to teach you. I think it is easier to learn things in a more relaxed classroom atmosphere. The ag teachers do a very good job at making the classroom relaxed and easy to learn in.
Agriculture classes are taught in a way that teaches you the concepts and how to apply them to real life. They also teach you things that you could need in other classes. For example you learn about Punnett squares in ag science 4, and you also learn about them in biology and biology 2.
When you are in an agriculture class you have the option to join the FFA. According to the National FFA's website, "through agricultural education, students are provided opportunities for leadership development, personal growth and career success. Agricultural education instruction is delivered through three major components one is classroom/laboratory instruction (contextual learning), second is supervised agricultural experience programs (work-based learning) and third is student leadership organizations (National FFA Organization)."
FFA is a fun way to learn things and it gives you many more opportunities to get involved in your ag classes. You can show animals at the fair through the FFA, you can go to leadership conferences, you can compete on career development event team, and you can participate in the activities that the FFA organizes.
The agriculture classes are incredibly helpful and students should carefully consider taking at least one during the high school career. They won't regret it.