By Natalie Pavlovec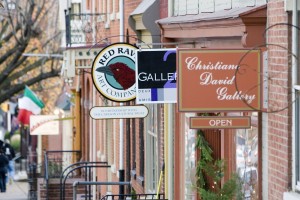 Are you the one that usually has no plans on a Friday night?
Well, your schedule is about to change.
On the first Friday of each month, an event called "First Friday" is held in downtown
Lancaster. Galleries and art shops are open to the public to view all different kinds of creations. Also, if you're hungry, there are plenty of places to eat.
Pennsylvania College of Art & Design usually opens their school on these nights to the public. Guests can go inside and view some of the students' work.
Another art gallery to check out is The Liz Hess Gallery, located on 140 North Prince Street. Liz Hess is a local artist, and in all of her paintings, there's a figure with a red umbrella. This figure will show up in paintings of places around the world, such as England, Ireland and Italy. The artist usually travels to all of the places in her paintings in order to paint them.
The Red Raven Art Company is an art gallery located on 138 North Prince Street. They are a gallery dedicated to young artists, and new exhibitions are displayed each month. The Red Raven Art Company is in the heart of Gallery Row.
Instead of just looking around, you can also go shopping. There are over 200 shops in downtown Lancaster. For example: Art & Glassworks, BellaBoo, and Details, Styles for Living.
Art & Glassworks is art such as stained glass panels, lamps, garden art and more. It's located on 319 North Queen Street.
BellaBoo is a store for children. Located on 32 North Queen Street, this store is great for purchasing gifts for kids.
Details, Styles for Living is located on 30 North Queen Street. It's shopping for home decor, gifts, clothing, bridal & baby registries and more.
With all this observation, walking and shopping – it can sure make a person hungry after a while, right?
Rachel's Cafe & Creperie is located on 309 N. Queen St. They sell breakfast crepes, specialty crepes, dessert crepes and more. Also, if you have a sweet tooth for Nutella, this is the place to eat.
Another place that's good to eat is at the Fractured Prune, located on 255 N. Queen Street. If you're in the mood for a good doughnut, this place has a wide variety of doughnuts, including a french toast doughnut, peanut butter cup doughnut, caramel bliss doughnut, and lots more.
All of these shops, places to eat, and galleries are open everyday to the public.
If you're looking for upcoming events at First Friday, you can attend The Echo Valley Art Exhibit on May 3 at the Ware Center. It starts at 6 p.m. and ends at 8 p.m. This event is open to the public and free admission.
Tonight's First Friday events will take place in downtown Lancaster from 5-9 p.m.