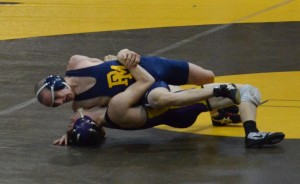 By Alexis Cunningham
The Penn Manor High School wrestling team met and exceeded its goal this winter. With a new head coach and the loss of many seniors from previous years, the team was expecting a difficult start.
"The goal of this season was to be 10-10,"  said Michael Fowler, head coach.
The wrestling team met that goal and finished with a record of 12-8.
The team's season was officially over in the Lancaster-Lebanon League.
However, for a few Penn Manor varsity wrestlers, Sectionals on February 16 was just the beginning of their post-season. Junior Matt Schnieder wrestled at 126 and placed third. Sophomore Ashton Leschke wrestled at 160 and placed second. Senior Mac Evarts took first place in his weight class of 170. Freshman Jesse Kann took third at 182.
Those wrestlers who moved on to Districts on February 22-23 bringing this season to its final close. Evarts placed 5th at Districts.
Note: A previous version of this story stated that no Penn Manor wrestlers placed at Districts. Senior Mac Evarts finished 5th.