By Brandon Kauffman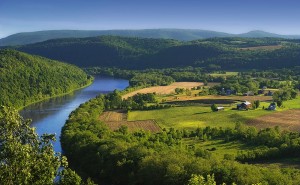 According to the State Department of Environmental Protection, the Susquehanna's main waters were not listed as impaired because of a lack of evidence that the waters are contaminated. The Susquehanna River has not been considered impaired under the Clean Water Act according the State Department of Environmental Protection.
However, the Pennsylvania Fish and Boat Commission said in recent fishing reports that "fishing has been slow in the lower part of the susquehanna river."  The Commission also released reports of smallmouth bass having black splotches, young ones dying off and fish having bacterial infections. The commission has caught some fish that exhibit the "Blotchly Bass" syndrome.
"I have fished the (Susquehanna) river for many years and have noticed a lot more trash, dead fish, and less  fish being caught in the last few years or so," said Sam Brown of Holtwood who fishes the Susquehanna River often.
On change.org, there is a petition to the Pennsylvania senate created by Cynthia Lustig of Biglerville, Pa. She is trying to get the Susquehanna River listed as impaired. The petition has so far reached 750 signatures. If the Susquehanna River is on the Impaired list, there are certain legal actions the government must take to the clean up river.
In an interview with Pennlive.com, the Pennsylvania Boat and Fish Commission said that "The Susquehanna River is sick."  In the same interview, John Arway, executive director of the commission discussed fish having both male and female characteristics, which is "not natural."
In a 2009 report, the U.S. Geological Survey said that the oxygen levels are low in the river, which causes the fish to have bacterial diseases. The infection is caused by Flavobacterium columnare, a bacterial infection that affects stressed fish.
According to a USGS water report, in October 2009 the Susquehanna River was found to be low in oxygen and warm water was killing smallmouth bass.
According to Americanrivers.org, last year the Susquehanna River was named the "most endangered river in the nation."  The reason for the endangerment was "Natural gas drilling posing unprecedented threat" in Bradford County.
The drilling has been going on for the past few years and is operated on mountains above the Susquehanna River in New York and Maryland causing the runoff to flow into the Susquehanna River according to the Susquehanna River Basin Commission.