By Greta Lindsley
Families, coaches and classmates piled into the Penn Manor High School library on February 6 to watch 23 Penn Manor student-athletes sign their letters of intent. According to Penn Manor Athletic Director Jeff Roth, this is the largest number of participating students in Penn Manor's history.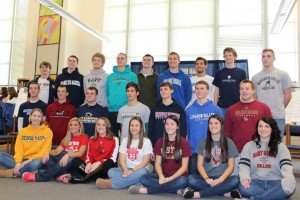 There were 11 Division I athletes, four Division II athletes, five Division III athletes and three nominated to military academies. According to NCAA.org, student-athletes who sign a letter of intent agree to attend the designated college or university for at least one year.
Senior Danielle Landis had mixed emotions after signing with East Stroudsburg to play soccer.
"I'm one of the people who isn't ready to leave high school because I know I'm going to miss everything, especially my friends,"  said Landis. She added that adapting to a new surrounding will be difficult, but that she is prepared to focus her attention on soccer and the exercise science program she plans to attend.
Senior Brady Charles, who signed with Jacksonville University and will play lacrosse, had a positive attitude when talking about leaving Pennsylvania for Florida.
"Jacksonville is very strong in my major, the team is on the rise, and the campus is amazing," said Charles. "Also is nice knowing that I'll be 10 minutes away from the beach and in nice weather year-round."
Brady plans to major in Nursing at Jacksonville.
Seniors Eryn and Emily McCoy will play field hockey at Boston College. When asked about why they chose Boston College, the twins agreed that the size of the campus, great academics and excitement of a new level of field hockey were the deciding factors.
Dreams will become a reality for baseball player Zac Burke and soccer player Lindsay Hutchinson.
Playing baseball in the south has been a goal for Burke for as long as he can remember. Burke signed to play baseball for Coastal Carolina University.
"It'll be so nice being able to practice outside in the offseason and also for the opportunity to play for a school where the baseball program has always been respected, competitive and successful," said Burke.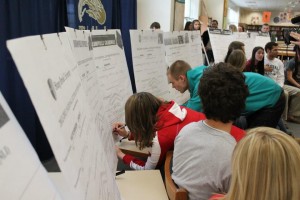 It wasn't about the weather for Lindsay Hutchinson.
"It's been my dream since I was a little girl to play D1 soccer, and it's exciting that it's finally here," said Hutchinson, who signed with Stony Brook University.
Even though they both will be living their childhood dreams, Burke and Hutchinson were two of many who agreed that leaving friends and family behind when starting their own life in college will be very difficult.
Louisville University's newest field hockey recruit, Shannon Sloss, leaves Pennsylvania on July 10 to get a head start on classes and team training. Sloss described her initial visit as nothing short of perfection.
"When I went out there, I fell in love with the campus and the devotion the school has to sports," said Sloss. "Everyone was so nice, and I felt really comfortable there, unlike at some other schools."
She is most excited to play Division I field hockey and meet new people.
Senior Harrison Schettler's words of wisdom to student-athletes were simple, but definitely sum up the life of an athlete.
"It's cheesy, but hard work does pay off," said Schettler.
Schettler will attend Shippensburg University to run cross country and track. He loves the idea of meeting new people and teammates, but knows that he'll miss his Penn Manor teammates, coaches and friends.
"It'll be weird knowing that we are all going our separate ways," he said.
In addition to Landis, Charles, Hutchinson, Sloss, Burke, Schettler, Eryn McCoy and Emily McCoy, the following Penn Manor students signed letters of intent:
Lauren Ali, Saint Mary's College of California (lacrosse)
Jonathan Bitner, Cedarville University (cross-country & track)
Aaron Brown, Lebanon Valley College (golf)
Zac Burke, Coastal Carolina University (baseball)
Brady Charles, Jacksonville University (lacrosse)
Mac Evarts, Washington & Lee University (wresling)
Connor Fink, Nominated for Appointment to West Point (cross-country & track)
Jessie Greenslade, George Mason University (volleyball)
Tim Harris, Lebanon Valley College (baseball)
Adam Hess, Nominated for Appointment to Naval Academy (football, basketball, lacrosse)
Lindsay Hutchinson, Stony Brook University (soccer)
Danielle Landis, East Stroudsburg University (soccer)
Cooper Lindsley, Seton Hall University (swimming)
Emily McCoy, Boston College (field hockey)
Eryn McCoy, Boston College (field hockey)
Kyle Musser, Kutztown University (football)
Daulton Parmer, Lycoming College (football)
Alex Quinn, Nominated for Appointment to West Point (football, basketball, baseball)
Harrison Schettler, Shippensburg University (cross-country & track)
Taylor Skelly, Franklin & Marshall College (soccer)
Darren Weidman, Saint Joseph's University (baseball)
Travis Wells, Coastal Carolina University (track)