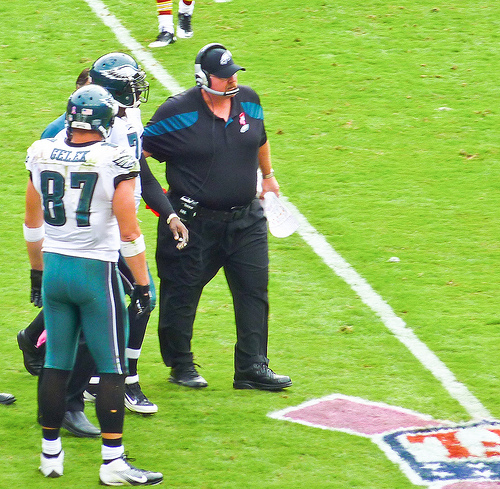 By Nick Tulli
Philadelphia Eagles fans, finally we are free.
After fourteen years– fourteen long, disheartening, dreadful years –Andy Reid is no longer the head coach of the Philadelphia Eagles.
No longer do we have to listen to Andy grumble after every loss about how he "needs to prepare his guys better." No longer do we have to sit through back-to-back three and outs to start every game, and no longer do we have to watch our quarterback carry the ball more often than our Pro-Bowl running back LeSean McCoy. No longer will we have to put up with haphazard timeouts, unorganized drafts, and 6-foot, 200 pound quarterbacks dropping back 50 times a game behind a sub-par offensive line.
Eagle fans (at least the loyal ones) have had to suffer for 52 years since players like Chuck Bednarik, Tommy McDonald and Sonny Jurgensen last brought the title home to Philadelphia.
Wonder what some similar names in the same situation are? The Arizona Cardinals, Detroit Lions and Tennessee Titans all have had NFL Championship droughts of more than 50 years.
That doesn't exactly qualify as good company. Among all "Big 4" sports teams, the Philadelphia Eagles championship drought sets them 16th all time on list of longest periods without a championship.
What have we done to upset the sports gods? Do they have a problem with loud, obnoxious Italians and Irish folk? Well, no, otherwise people on Long Island wouldn't have seen such success from the Giants. So if that isn't it, what could have happened? Do they dislike the color green? Cheesesteaks?
Though the Eagles have made trips to the NFC Championship game for four years in a row under Andy Reid (including one Super Bowl berth), the franchise hasn't won a game in the playoffs since the passing of long-time defensive coordinator and mastermind Jim Johnson.
When news broke of Andy's firing, I knew exactly what I had wanted: Gus Bradley, Defensive coordinator of the resurgent Seattle Seahawks. From the moment that the Seahawks defense shut down the San Francisco 49ers 42-13 on December 23, I knew he was the man who could grab hold of this team and restore the Philadelphia defense back to days of old.
I could see it then, a bald-headed Bradley parading through Philadelphia with a new shiny silver trophy that every man in Philadelphia would be taking pictures of, bowing down in front of, and perhaps, losing wives to. I dreamed of confetti flying, balloons floating, and fans popping their heads out of their high-rise offices to catch a glimpse of the spectacle at hand. Finally, that pesky piece of metal was in our grasp, held high above Broad Street for the very first time.
But that beautiful, beautiful dream was strangely twisted when I received the news: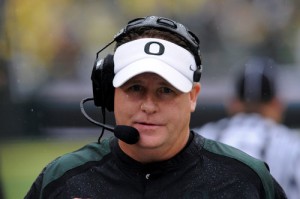 The Eagles have blind-sided us and announced that their new head coach is Chip Kelly of the University of Oregon, who was thought to be returning for another year in college. In perhaps the most surprising turn of events that this student has seen in his lifetime, I must say that I feel nothing but complete disappointment.
We had it all lined up. Bradley would lead us to the promised land with a new resurgent defense and a simple offense that young quarterback, Nick Foles, would be able to work with.
Then, in the blink of an eye, the balloons have popped, the confetti has stopped flying and the Lombardi trophy has spent yet another year eluding the city of Brotherly Love.
Many believe that Kelly is the best man for the Philadelphia job. I, for one, cannot possibly see the logic. I have a great amount of respect for Kelly. I believe he is an offensive mastermind that is one great college coach.
But that is not enough for me.
Kelly has created a style of football that implements the shotgun formation and a mobile quarterback. Sure, that will work at the college level, but we've seen how it has worked in the pros. Do we really need another half a decade of Michael Vick getting pummeled and thrashed again?
Foles is not a guy who will win games on his feet. And I will no longer accept that Foles isn't our future. He's a tall, smart, pocket passer who could use an offensive coordinator that will know what to do with him. He's the guy we've been looking for, and the offense that our new head coach will bring with him might just kill any hope of that.
Kelly has earned the great reputation that has gotten him a star studded team and group of alumni. But recruiting doesn't happen at the professional level. Kelly will have to adapt to this new style of football, and guess what? In this city, he's got four preseason games and that's it. If he doesn't put up, he'll be kicked out.
Additionally, college coaches turned-professional almost never see success in their first professional gig. Pete Carroll needed three attempts to bring his team (now the Seattle Seahwaks) to National-contender status (with the help of Bradley, may I add). Nick Saban, the dynastic leader of the dominating University of Alabama Crimson Tide had a stint with the Miami Dolphins. How'd that turn out? 15 wins and 17 losses in two seasons. Not exactly stellar. Lane Kiffin's NFL debut in Oakland brought him about as much success as this season at USC.
Look, I love the Eagles more than I love some of my family members. I want the best for this team, and I'll be rooting as hard as ever for them. But if Gus Bradley leads his new Jacksonville Jaguars team to the playoffs this year, you will hear quite a few "I-told-you-so's."