By Joey Jackson –
The Penn Manor boys baseball team are continuing to win in this years PIAA District 3 playoff, even though they have been considered the underdog in most of their games so far.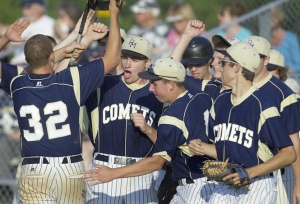 The 20th seeded McCaskey Red Tornadoes, 5th seeded Dallastown Wildcats, and now the 4th seeded Lower Dauphin Falcons have all fallen at the hand of the streaking 13th seeded Comets.
An early 4-0 lead for the Comets later finished at 9-4 on a called third strike by junior Darren Weidman, who came in to relieve starting pitcher Joe Witmer.
"I was screaming when I saw the ump signal the strike and ran in," said junior outfielder Tim Harris. "Darren was just running in circles around the mound then just collapsed."
Upsets like this are something of a regularity as seedings have shown to be little more than numbers preceding the team's name when it comes to the baseball district playoffs. Last year's championship was won by the 16th seeded Cedar Cliff Colts over the 10th seeded Manheim Township Blue Streaks. This year, the 9, 13, and 14 seeds are three of the four teams remaining after three rounds of district play.
The Comets will square off against the 9th seeded Red Land Patriots, the lowest seeded team that they've faced since the opening round, who are coming fresh off of a win over the top-seeded Black Knights of Hempfield.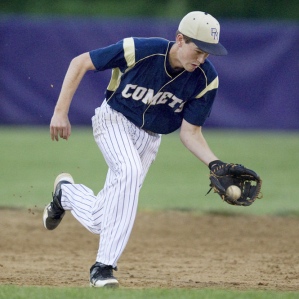 "We've beaten the five seed and now the four seed, so I'm confident that we can win again," said Harris.
The Comets, now in the semifinals of the District 3 playoffs, are guaranteed at least two more games in their season and will advance to the PIAA AAAA state playoffs if they can mount one more upset in their next two games.
"You know going into playoffs that only one team will end their season happy, we are just trying to be that team," said senior center fielder Austin Richwine.
Jacob Shiner contributed to this story.