By Jordan Rineer and Richard Schulz-
Under the nice weather, Penn Manor ran and threw their way into the record book at the LL League championship at Hempfield on Friday and Saturday May 11 and 12.
Lavonte Jones broke a school record in the 100 meter dash, running it in 11.14 seconds.
The only two first place winners, from Penn Manor, were Harrison Schettler and Greta Lindsley.
Tenth grader Lindsley broke a league record in the 800 meter, running two minutes and fourteen seconds.
She won first place and ran the 1600 meter in 5:09.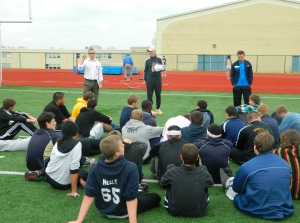 Lindsley won first place and ran the 3200 meter in 11:32.
"She's one of the few girls that have run under five minutes in a mile," said Maria Vita the girls track coach.
Lindsley scored 30 points for the team by winning the 800 meter, 1600 meter and the 3200 meter.
Schettler won first place and ran the 1600 meter in 4:26.
Penn Manor overall placed ninth in the League, Penn Manor girls tied for third overall, and the Comet boys placed ninth overall.
Placed award winners:
Meghan Maisano placed fifth in the 800 meter 2:22.
Greta Lindsley won first place in the 1600 meter 5:9.
Breanne Funk placed second in the 3200 meter 11:49.
Greta Lindsley won first place in the  3200 meter 11:32.
Laura Wissler placed 3rd in shotput.
Megan Haines placed 2nd in discus.
Katie Stringer placed 6th in discus.
Harrison Schettler placed 2nd  in the 800 meters.
Harrison Schettler won 1st in the 1600 meter 4:26.
Jonathan Bitner placed 4th in the 1600 meter 4:29.
Brendan Kincade placed 5th in pole vault.
David Burch got 3rd place in triple jump.
Darren Spirk placed 4th in shotput.
"I thought it was overall a strong performance by our team. I'm proud of everyone," said Schettler.