By Taylor Skelly and Errol Hammond –
The curse is broken.
For many of the past years Spring Fling, the school's annual carnival and club fundraiser,  has been nothing short of a washout with rainy, cold and stormy weather the norm.
But after a decision made by assistant principle Doug Eby to switch the date this year, the "rainy curse" was finally broken.
"It was a good call," said junior Adam Hess about Eby's decision to switch the date.
Friday's event was nothing but sunshine, blue skies and a lot of happy fair goers from the community.
"Spring Fling is usually the second Friday in May, but prom was scheduled for that Friday so we had to push Spring Fling back to the third Friday," said Eby, "The weather just turned out to be great as well."
With rain out of the question and temperatures in the low to mid 70's, Penn Manor students of all ages along with members of the Millersville community flocked to Comet Field to enjoy a night of good food, rides, music and a variety of other activities. The evening ended with a fireworks display that could be enjoyed from over half a mile away.
Despite a record sized crowd, the event ran about as smoothly as possible this year. There was a brief period of time when the Spring Fling Crew had to scramble to find parking spots for everyone coming in, but they were able to get that situation under control, said senior Sara Bennis.
"The crowds were significantly larger than in years past, but we really didn't have many [behavioral] issues," said Eby.
"We had to tell a couple kids to quit smoking, but other than that it was pretty uneventful, there weren't any fights which was a surprise," said Hess.
This year's post-Spring Fling clean up also concluded in record time.
"Pretty much everyone that had signed up and had a shift showed up," said Bennis, "Last year we didn't get done cleaning up until around 11:30 PM, this year we were done at 10:30PM, which was record time."
Whether Mr. Eby was able to predict great weather for this year's Spring Fling or it was just luck of the draw, one thing is for certain, the great "rainy curse" that has hung over Spring Fling for the past three years is finally gone.
Photography by: Dakota Jordan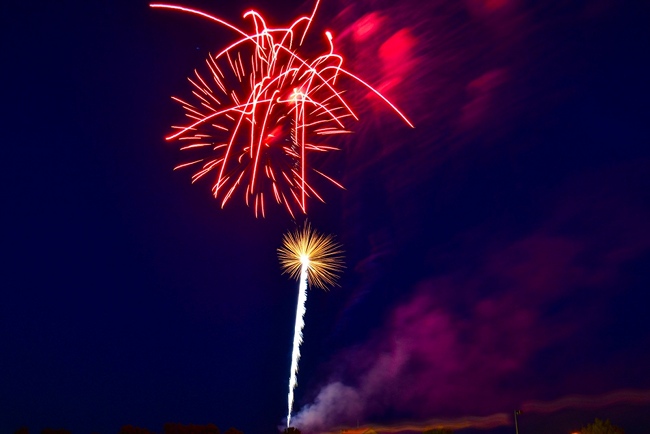 Click on first photo to launch slide show.