By Sarah Schaeffer and Becca Hess –
There's a light at the end of the tunnel.
With only a few school days left seniors are counting down the days until graduation.  A mixture of emotions cloud the minds of the seniors as they spend their last days as a Penn Manor Comet. From being excited for college to being sad that they'll have to say goodbye to friends, bittersweet covers it all. Many will go onto college or a type of trade school and others will join the military, work, or take some time off.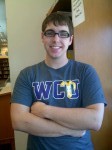 Based on the information from those seniors who replied with their plans for after high school, the two most popular schools for seniors next year are Millersville University where 24 have reported they will attend and Harrisburg Area Community College (HACC), where 18 have reported. The military will take at least 12 of our seniors and 11 others say they will either be working, taking a year off or doing missions work.
"It (University of Pittsburgh) had the program I wanted and I liked the campus. I wanted something in the city and my mom wanted me to stay in the state," said Russ Thorsen.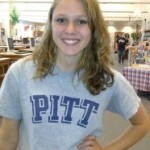 "I'm excited to be on my own and be more independent," said Kate Harrold. "(For the juniors) I would say, take your senior year seriously, don't slack off. Get involved."
Jess Huber plans to fly out of PA and into Texas for boot-camp this summer. Huber is enlisted in the U.S. Air Force.
"It's a different career opportunity  and that's why I chose it," she said. "I'll be doing online classes, so I'll be getting my degree while I'm in (the Air Force).
"I looked for a good music school that was still going to be cheap," said Jesse Griffith, who will be attending IUP.
"I'm gonna miss some of the teachers, especially Ms. Vita," said Shayla Moore who also will attend IUP.  "I'm excited to meet new people in college and being able to focus on something I love."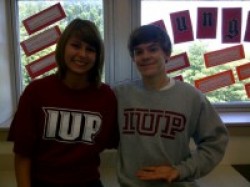 "There are a lot of things to do in college. I'm doing track and field at Delaware Valley College," said Eli Marcelino. "I'm gonna miss some of the teachers, my friends and sports."
Senior Logan Kramer will be traveling one of the farthest distances from home this fall when she attends Arkansas State University.
"I'm excited to meet new people and make new friends, and since I'm playing a sport (soccer), I'll be close with my team,"said Kramer. I'll probably get home sick in the beginning. I'm gonna miss seeing my friends everyday," she added.
Penn State University-bound Emily Laughlin is excited to kick off her freshmen year.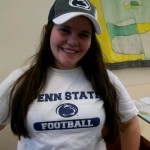 "I can't wait for the football games and for the Penn State pride," she said.
Choosing a college is not always an easy task but for Laughlin, Penn State's "home-like feeling" won her over.
Zane Kreider's decision to join the military (National Guard) was based on a few factors.
"(I joined) because it's a family tradition and the college benefits are good. In the next two years I'm looking at deployment to Kuwait," he said.
Kreider explained how he's excited to be deployed and he isn't afraid because Kuwait isn't that bad as of now.
Fellow senior Chris Gotwals, who is in the U.S. Army, is also planning on getting deployed but to a place often associated with danger and fear, but he isn't scared. He joined the army for all of the reasons they advertise: to protect his country, his family and the college benefits.
"If NATO doesn't pull out then I'll be in Afghanistan in April (2013)," he said. "I'm not scared, and if i don't go to Afghanistan I'm sure I'll get deployed somewhere else."
Senior Karla Mylin has plans that will take her to the other side of the world. She's going to India, or at least she hopes to.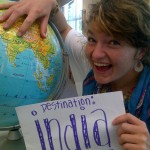 "I wasn't sure of what I wanted to do for college, like a major or the college, and I've always had a heart for missions," she said. "I'm nervous and excited about it. It's pretty expensive though, more than $8,000 I think."
If Mylin is able to raise the funds necessary for the trip she plans to go on the trip of a lifetime.
Senior Julie Schultz will travel to the UK for a royal college experience. This fall Schultz will make the journey to Scotland where she will attend University of Saint Andrews.
"It's where Prince William went and during the wedding there were advertisements and a lot of information on the college, so I looked into it," said Schultz. "It's the only school in the UK on the common application. I applied on a whim and I got in."
With a graduation rate of nearly 98 percent, the Penn Manor class of 2012 is in a great position for success.  According to research information about Pennsylvania graduation rates, Pa.  hasn't made much progress in raising graduation rates from 2002-2009. It currently stands at about 80 percent.  Penn Manor is in great shape compared to Pennsylvania as a whole and especially compared to the national graduation rate of approximately 75 percent.
Although many have predicted the world ending in 2012, this is not the case for the seniors. This year, 2012, marks the beginning of their next step. A step that has required a great deal of preparation and, at times, been intimidating, but nonetheless is highly anticipated. It brings a new self image for the seniors as they prepare for college, prepare to become more independent and prepare for adulthood.
Here is a listing of plans seniors have for their lives immediately after graduation.
This is not then entire senior class of 2012. The senior map is a link to Google maps which has a pin marking each college listed below.
Arkansas State University
Logan Kramer
Art Institute
Kaitlyn Ibach
Belmont University
Kelly Lenahan
Bloomsburg University 
Alex Flurry
Becca Hess
Hannah Robb
Bryn Mawr College
Kayla Bixler
Cabrini College
Kierstin McDonald
Career and Technology Center
Amy Shoop
Central Penn College
Steven Morris
Consolidated School of Business
Jarkysha Jones
Davidson College
Harrison Manning
Delaware Valley College
Eli Marcelino
DeSales University
Corina Connelly
Drexel University
Alec Keck
Joey Jackson
Alex Kirk
Eastern University
Lindsey Ostrum
Ryan Martzall
Katrina Torres
Eastern Mennonite University
Alicia Ygarza
Elisa Ott
Kate Harrold
Elizabethtown College
Abigail Buckwalter
Brent Lefever
Embry Riddle Aeronautical University
Alex Cauler
Florida Institute of Technology
Alex Cummins
Franklin and Marshall College
Sarah Schaeffer
Geneva College
Chris Ressler
Goucher College
Maria Detweiler
HACC
Austin Hess
Jen Rote
Chloe Traup
Karli Heiserman
Dylan Kneisley
Elena Frank
Tonya Fox
Jade Hess
Dylan Keagly
Dani Sprankle
Iris Santana
Abby Schaefer
Maddie Shertzer
Demi Greenwalt
Tyler Maysilles
Kevin Holton
Braden Kruger
Brandon Schmertz
Indiana University of Pennsylvania
Shayla Moore
Logan White
Eric Schlotzhauer
Jake Harvey
Jesse Griffith
Brandon Schuman
Austin Richwine

Johns Hopkins University
Jake Schick
Lancaster Bible College 
Frankie Herr
Lancaster General College of Nursing
Alex Evans
Kym Kipphorn
Nicole Harnish
Amanda Nolt
Miranda Hahn
Becca Frankford
Lancaster School of Cosmetology
Katie Melrath
Kutztown University
Grace Gundel
Brianna Mackison
Lebanon Valley College 
Cody Stryker
Liberty University 
Austin Howett
Lock Haven University
Kendall Arment
Messiah College
Trevor Jones
Maegan Keperling
Eddie Bley
Michigan State University
Andrew Herr
Millersville University
Nick Zell
Amber Brenner
Clayton Secrest
Drew Purzycki
Bri Rice
Faith Zimmerman
Kelly Herr
Ryan Dettrey
Mike Nitroy
Devin Sanchez
Matt Kersic
Emily Sisson
Angela Oppido
Truman Mylin
Kevin Brubaker
Beck Shue
Zainab Gilani
Maranda Kurtz
Cameron Hughes
Colby Sangrey
Matt Weidinger
Ashley Bollinger
Dakota Jordan
DaYonte Dixon
Ohio University
Vicky Nase
Sal Dumas

Penn State University (Altoona)
Kristina Simon
Cheyenne Weber
Penn State University (Berks)
Patrick Simpson
Penn State University (York)
Kegan Minney
Penn State University (Main Campus)
Dylan Weber
Megan Haines
Emily Laughlin
Brian Sloss
David Mohimani
Janelle Musser
Cody Straub
Ian Toomey
Pennsylvania College of Art and Design
Cody Livingston
Point Park University
Mitch Wise
Courtney Jacobs
Rollins College
Emily Eddowes
Savannah College of Art and Design
Jenna Hess
Shippensburg University
Kelsey Rebman
Errol Hammond
Alex Lombardo
Simon Zimmerman
Jay Jackson
Austin Rowley
Stevenson University
Jessie Cappanelli
Andrea Tracy
Temple University
Billy Green
Tosh Chambers
Brendan Kincade
Bob Warfel
Michael Andrusisin
Weston Chambers
Sid Kreitzer
David Burch
Tyler Smith
Thaddeus Stevens College of Technology
Chris Fleming
Kyle Black
Ryan DiCamillo
Alex Sorce
Tommy Hotchkiss
Ryan Newswanger
Thiel College
Courtney Fatta
Universal Technical Institute
Dylan Tremellen
University of California (Los Angeles)
Landon Alecxih
University of Kansas
 Alli Long
University of Maryland
 Sam Valentin
Abby Barley
University of Pennsylvania
Ellen Blazer
University of Pittsburgh (Greensburg)
Michelle Dempsey
University of Pittsburgh
Selena Hasircoglu
Russell Thorsen
Jake Shiner
Megan Schlegelmilch
Brian Le
Ian Bricker
University of Saint Andrews
Julie Schultz
Virginia Tech
Lauren Pironis
Washington College
Jenn Hanner
Josh Morgan
Waynesburg University
Kayla Laukhuff
West Chester University
Sara Bennis
James Servansky
Natalie Dell'Estate
Alexa Stewart
Tim Deubler
York College
Taylor Gamber
Kara Overmyer
York Technical Institute
Phelan Good
Military – Zane Kreider (National Guard), Skyler Major (Marine Corps), Kyle Musselman (Marine Corps), Aaron Sellers (Marines), Chris Gotwals (Army), Nathan Harsh (Marines), Troy Hoke (Navy), Jared Hall (Marines), Liam Kline (Air Force), Jess Huber (Air Force), Andy Morales (Air Force), Cody Kemps, Julie Ault (Air Force)
Working – Alex LaFrance, Zac Jenks, Michael Schneider, Aaron Alleman
Taking a year off and working- Lauren Gerlach, Jake Mercado, Breiana Herr, Matt Shroyer, Adam Morris, Kami Mylin, Michael Schneider
Missions work – Karla Mylin, Emily Peris