By David Mohimani –
The Rusty Gate. Most have never heard of it, but Penn Manor senior Alex Cummins' mastery of this check has propelled him to All-American status.
Cummins was named an All-American Wednesday by the U.S. Lacrosse Organization.  PIAA District III coaches vote on the designation.
But many Penn Manor students may not be aware of Cummins success on the playing field because lacrosse is not as publicized or as well known as basketball or football.  When talking about Penn Manor sports stars, his name is probably not mentioned in the same breathe as football standout Daulton Parmer and basketball phenom Marc Summy, even though he is arguably just as good if not better at his respective sport.
Over the course of the last four years Cummins has been a dominating force on the lacrosse field. Cummins has received many accolades throughout his career however this year he outdid himself. Aside from his first team all-league selection, he was named as an All-American.
"It feels really good. I've basically been working for that this season, so I worked hard to get that."
Cummins has made a name for himself with incredible take away checks, scooping ground balls, and versatility as an offensive threat even as a defender.
Cummins is the first to admit he could not do it by himself.
"My coaches definitely  taught me a lot since I was a freshman and playing up on  varsity for four years helped me a lot, I got to learn things faster," said Cummins.
Cummins has been a three-year starter but this year he has taken on more of leadership role. He was selected as a captain this year and he has tried to give younger players the tools to succeed.
"If someone doesn't know what to do, I teach them and give them some pointers. A lot of kids come up to me ask for advice," said Cummins.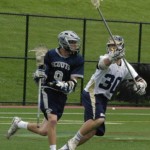 Cummins is not the only All-American from Penn Manor in recent history, last year defensemen Jaquan Presbery was also awarded the top honor in District III.
Cummins saw his high school career abruptly end when the Comets surrendered a 3-0 halftime lead to lost to league rival Manheim Township in the first round of district play. Luckily for him he has plans to continue his career at the Florida Institute of Technology where he will major in marine conservation and ecology.
"They offered me the most money in scholarships and their marine biology programs are top in the country," said Cummins on his decision to head to Florida Tech. He added that the nearby beaches were a little bit of an incentive it to go there.
Cummins plans on keeping his success going as a Panther next year.
"I'm just going to keep working hard through college and hopefully get conference awards,"said Cummins.
The future is definitely bright for Cummins, and it has nothing to do with the Sunshine State.