By Cody Straub-
Penn Manor alum and featured artist for LaPorte Jewelers for the month of May, Ben Deluca paid a visit to Penn Manor High School on May 17. Deluca visited art classes at the high school to share his personal experiences with art and show that an art career does not have to end after high school.
Deluca attended Penn Manor High School, graduating in 2003. After high school he attended Lycoming College where he balanced his passion to continue his art career and playing college lacrosse. He graduated with a Fine Art degree from Lycoming with concentrations in paintings and sculptures.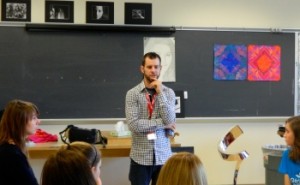 In December of this past year Deluca opened his own business, "Deluca Creations," out of his home in Lancaster City until he can find a permanent studio to house his business.
According to the Laporte Jewelers website, when painting Deluca , "creates large scale, powerful, life-like portraits filled with meticulous detail accompanied by freely applied brush strokes."
Deluca decided to come in to the high school to speak to art students after fromer principal Dr. Jan Mindish approached him with the idea. Penn Manor received a small grant to have professional artists come speak to students about the possibilities of art after high school. Mindish thought that Deluca would be the perfect candidate since he is a Penn Manor Alum.  Deluca came bearing not only some of his art work but plenty of advice for the students.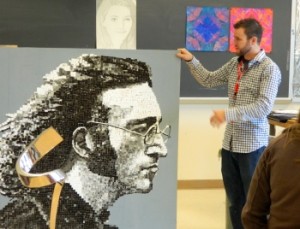 "It's like anything, with every painting you get better," Deluca explained to the class of art students who participated in the question and answer session.
Deluca illustrated how he turned his passion for art into a full time career for himself.
"I had always taken the art classes at Penn Manor," stated Deluca, "I never stopped doing it (artwork), once you stop you are kind of done."
Deluca brought in some of his art work to show the students including a sculpture and painting of his. He also showed students his senior project he completed while a senior at Penn Manor, which has been housed at the school since he graduated.
Deluca's visit to the school was no doubt beneficial for students aspiring to have a art career, showing a real life example of a person who has made a career out of his passion for art.