By Austin Rowley –
There's a line from the Beastie Boys' top hit, "Sabotage," that reads, "your crystal ball ain't so crystal clear." Nobody had in their crystal ball the possibility of Beastie Boys' band member Adam Yauch passing away on May 4.
A practicing Buddhist, and Beastie Boys lead man, Adam Yauch, sometimes better known as MCA, died after a three-year battle with cancer at the age of 47.
In 2009, Yauch was diagnosed with a cancerous parotid gland and lymph node, more commonly known as throat cancer. Doctors told Yauch that the cancer was in its early stages when it was detected, and Yauch was expected to make a full recovery.
His cancer treatments over those three years delayed the release of the Beastie Boys' latest album, Hot Sauce Committee Part II, and the subsequent tour.
The news of Yauch's death shook the entire music industry.
"To become this gentle Buddhist soul who literally would not step on a fly was something else," said longtime friend and Rage Against the Machine guitarist, Tom Morell0, in an interview with the Chicago Tribune.
"His commitment to social justice and especially to Tibet's freedom put it on the map for an entire generation of people."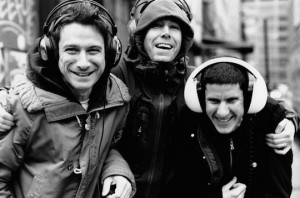 Russel Simmons of Def Jam Records said that Yauch was "incredibly sweet and the most sensitive artist, who I loved dearly."
The band that also featured Michael "Mike D" Diamond and  Adam "Ad-Rock" Horowitz, and the three Brooklyn childhood friends would sell 40 million records and had four No. 1 hits. What made this music group so incredible for its time was its ability to cross genres and color barriers. They helped bring rap to a much wider audience.
The Beastie Boys were a pioneering rap group, since the music industry they were most involved in was mostly dominated by African-Americans. They frequently transitioned from rap to punk throughout the records they released.
Yauch, Horowitz, and Diamond grew up together in Brooklyn, New York. All three members grew up involved in music programs through school as well as non-school related functions. The band's publicist said the first time the Beastie Boys actually played in front a group of people was during Yauch's 17th birthday party.
The three were a tight knit group, almost family-like.
"He really served as a great example for myself and so many of what determination, faith, focus, and humility coupled with a sense of humor can accomplish," Diamond wrote. "The world is in need of many more like him. We love you Adam."