By Aaron Brown –
Bryce Harper and Robert Griffin III are two rising stars taking their talents to Washington D.C.
In the eight games that Harper has played in, he has already made a name for himself at the age of 19.
"He's smart," third baseman Ryan Zimmerman said in an interview with The Washington Post. "I think his baseball IQ, the way he adjusts and the things he does at his age are impressive. The double as well, to know what kind of arm you have in left field, just kind of the knowledge. He'll learn. It's only the beginning of it, that's the scary part. He's only going to get better."
Although young sports stars can be role models and an inspiration to athletes here at Penn Manor, some believe early fame can go to their head.
"I admire his talent and ability, but I believe that it is overshadowed by his terrible attitude," said Nick Tulli, a junior in Penn Manor.
Some think Harper is cocky, but what 19-year-old playing major league baseball wouldn't be? He is trying to fit in with all the other major league all-stars. He is fulfilling his dream and making lots of money on top of that.
Harper may be the next five-tool player in the MLB.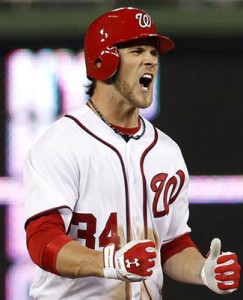 The traits that make a five-tool player are: hitting for average, hitting for power, a strong arm, a strong fielding ability, and speed.
Harper has all five of these traits. He is batting .308, which is a superb batting average. He hits for power. He hit 5 doubles, but has not hit his first home run, yet. He has a strong arm, which he shows off in left field. He is a very good fielder, has not made an error. Also, he as good speed, which he puts on display on the bases and in the outfield.
Harper made history, by batting in the three hole at the age of 19. He is the youngest player to bat third, since B.J. Upton in 2004.
"I mean, he's swinging the bat good. He's had quality at-bats. It's what you do. I don't care if his name's Harper or whatever. Or how old he is," Davey Johnson, the manager for the Washington Nationals, said in an interview with The Washington Post. "He looks like a pretty good choice to me."
Harper is boosting the moral of National fans and will have put the team on his back, with Jayson Werth out with a broken wrist.
"I just wanted points," said Tulli. "Fantasy baseball is all about winning, not having a respectable team."
Along with Harper, Washington D.C. added another phenom in Robert Griffin III.
The Washington Redskins drafted the Heisman winning quarterback  2nd overall in the 2012 NFL Draft.
"I think its exciting for the redskins since they now have a big name quarterback, but I feel like the Redskins have put a lot of pressure on him," said Tim Harris, a loyal Washington Redskins fan at Penn Manor.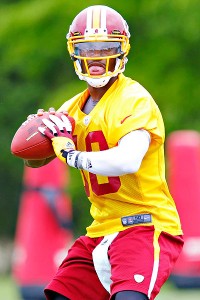 The coach of the Redskins, Mike Shanahan, named Griffin the starter after just one practice.
"He's the starter," Shanahan proclaimed after practice. "Period."
"He's ahead (of schedule)," Shanahan said later. "Very few people can take as much verbiage (from the playbook). Robert was able to pick it up very quickly and it showed on the field."
Griffin is going to have a great chance for Rookie of the Year over Andrew Luck because Griffin is going to be put in an offense with many weapons, unlike Luck.
The Redskins are trying to improve on their 5-11 record last season. They are hoping Griffin can be the man to spark the offense, which has been dragging for years.
"He definitely has the skills and the ability to be a great quarterback in this league," said Harris. "I hope he can take the Redskins to a couple of Super Bowls."