By Daulton Parmer –
Comet Field was the site of a girls soccer showdown this week.
A win would move the Comets to leagues for the Penn Manor Girl's Soccer team. The top two teams move onto league playoffs.
The third place Comets, with a season record of  10-4-1, took on the Cedar Crest Falcons standing in second place at 9-7-0.
Unfortunately, the Comets couldn't pull through.
The game had perfect weather and the players were really confident going into the game.
"I feel really good about our defense right now," said senior captain Sara Bennis, "We've been practicing really well and hopefully our play will rub off from our last game against Manheim Township."
Bennis led the defense in a crucial win against Manheim Township previously in the season, giving up zero goals and just a few looks at the net.
Defense wasn't the problem for Penn Manor this time, they allowed the same type of results as the game against Township, zero goals, in 100 minutes.
But offense really hasn't been the strong part for the Comets this year.
For multiple games this season, the girls just couldn't find the back of the net.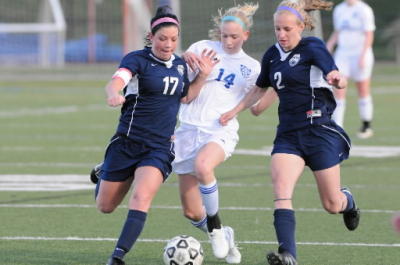 "Without dominating junior Lindsay Hutchinson, the Comets need more people to step up offensively," said Assistant Coach Sara Scheid.
"We just weren't clicking, everything was forced and we just couldn't get lucky," said senior and captain Logan Kramer.
Unlucky wasn't just the name for the offense, freshman Goalie Abby Schlegelmilch injured her leg coming down from a save. Which kept her from finishing the game. Another freshman, Carolyn Weber, came in goal for the second half of overtime.
The game ended 0-0.
Doesn't end the chance at leagues.
Doesn't make a change at leagues.
"We have to beat Hempfield Thursday," said Scheid.
Beating number one Hempfield Thursday on their Senior Night is the first priority. After the win they still would need Cedar Crest to lose against Mccaskey. If they both win, the word going around is a play in game for playoffs.
Last match up against Hempfield finished with a heartbreaking loss in overtime.
Only time will tell the future for the Lady Comets.