By Alicia Ygarza –
Hard work has paid off.
The Penn Manor Rocket Club has been invited once again to the 2012 national competition.
The tenth Annual National Rocket Competition will be held May 12 in Manassas, Va.
Out of 680 teams across the country, 100 were chosen to participate in the competition, and six out of seven teams from Penn Manor made it. In fact, two of those six teams are middle school teams.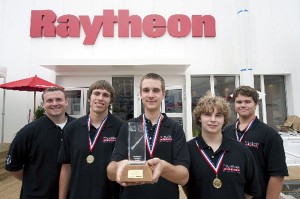 "I am always nervous [when going to nationals] but I'm definitely excited because it is the pinnacle of the rocket season.  These kids have worked very hard all year long and deserve a shot at the National Title," said Brian Osmolinski, head adviser of the club.   
The club has been established for ten years, and has made it to nationals each year.
In 2010, the team even made it to the international competition, beating teams from England and France.
However, since the team did not make it to the international competition last year, one club member said she feels the club has been "forgotten" by the school and public.
"I wouldn't say we've been forgotten. The chances of us going to internationals is very small, it's an honor to go to nationals. It's something to be proud of," said Mark Raymond, a four year rocket club member. 
Before Raymond joined the club as a freshmen, he had experience building rockets as a boy scout.
"It was fun [building rockets] so I tried it in high school, and I liked it," said Raymond.
Having fun is the main goal Osmolinski tries to instill within his program.
"My initial goals [for the club] were to have teams of students cooperatively build rockets for this competition, learn how rocketry works, and have fun doing it," said Osmolinski.
But the day of nationals is more than just having fun, it's about winning.
"My biggest fear is that a rocket explodes on the pad for the team's one shot," said Osmolinski.
For that reason, the club builds back-up rockets, to ensure they are prepared.
They are not only prepared with their supplies, they are prepared mentally.
"I tend to worry about particular details but I constantly remind myself that the rocket kids know what they are doing and make good decisions all the time.  It's in their hands.  I have equipped them with all the tools they need. It's up to them to make it happen," stated Osmolinski.
The six teams that will be attending nationals are:
Team 1
Alex Cauler
Mark raymond
David Herr
Colby Sangrey
Jonathan Martin
Team 2
Eric Keefer
Austin Rineer
Adam Zangari
Ian Tahmasbi
Team 3
Maggie McClintock
Cate Shipley
Gabie Bauman
Chris Cuascut
Team 4
Andrew Lobos
Ben Thomas
Jack Battle
Chris Mummau
Team 5
Sam Cauler
Chris Knight
Zach Holsinger
Team 6
Shawn Stone
Jesse Stoner
Tom Sowers
Wyatt Shiffler
According to Osmolinski, the students are a bit nervous preparing for nationals, but they are also very excited.
They only have one shot, and hopefully they will soar.