By Sam Valentin and Patrick Simpson –
Penn Manor is running, jumping, throwing, and hoping for another successful season.
It is the the start of another track season here at Penn Manor. It will feature a handful of new faces for the Penn Manor track team, however, they well still have their veteran athletes which they will heavily rely on to have a successful 2012 season.
They will rely on the key contributions of Seniors Jess Huber, Darin Spirk, and Laura Wissler the trio competes in throwing events. Sprinters Levonta Jones, Adrian Vireut and senior, David Burch. In distance Emily Novak and Meghan Maisano who run the 800 meters and the 4×800 relay team that won both leagues and districts last year. In distance they will look for sophomore Greta Linsdley to have another stellar year. She won the 3200 and 1600 at the league meet last year and was a part of 4×800 relay team that won leagues and districts. Other keys components to a successful 2012 season are  hurdlers, Emily Novak and Eli Marcelino, jumpers, David Burch and Adrien Vireut, and pole vaulter, Selena Hasircoglu.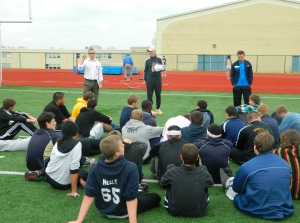 But they will have to endure this season without Demetrius Dixon, Morgan and Natasha Fletcher, Katie Maisel,Peter Ashworth, Austin Groff, Andy Olsen, Quinn Nadu, Helen Doolittle, Sarah Connor, and Matt Funk who all graduated. While girls jumper, Jessie Greenslade did not come out this year.
But sprinter, Levonta Jones does not seem to concerned.
"We lost a lot of key athletes but I still think we can compete at a varsity level" said Jones.
And he seems to be right. Penn Manor unofficially won there scrimmage against Garden Spot earlier this year. Even though score was not kept.
Next the Comets faced defending State Champion, Hempfield in their first home meet of the season.
The entire team, coaches included, knew this was going to be a test.
"Its a freaking battle," said Joe Herman, a throwing coach for the Comets.
"Hempfield, the defending state champion in track and field, were a challenging first meet for us," said head coach, Arthur Morris.
And a battle it was with the Comets coming up just short giving them their first loss of the year.
Last year the boys overall record was 4-2 while the girls overall record was 5-2, meanwhile every member of the team is hoping for a better season.
"We are hoping better then last year," said Herman." The kids are looking good two weeks in."
A couple years into the Morris regime and he has switched things up for the Comets which he ultimately hopes leads to success.
"[Coach Morris] is conducting things differently this year," said Jess Huber. She thinks the more one on one coaching is going to make a difference this year. But we will only know at the end of the season.
They did rebound from their loss with a win against Warwick.
Their next meet is April 10th at home against Cedar Crest.
The team has not really gotten to much attention for accomplishments on the track. However, with the talent that this team has this year it might be a team that you may want to pay close attention to this year.