By Blake Wales – 
The "Hunger Games" series continues to fly off the shelves of the library at Penn Manor High School and has done so for the past two months. The book series has and continues to grow in popularity because of the movie coming to theaters soon. It seems to be that the students want to read the book before the movie comes out so they can compare the two.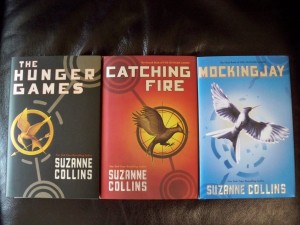 Diane Bounds, the librarian at Penn Manor High School,  said that not only "The Hunger Games" but every other book in this series has been off the shelves for several weeks.
The library has actually set up a waiting list where the students sign up for what book they want and have to wait their turn to get it. The first book of the Hunger Games series was published in 2008 and since August of this year students have been all over these books, according to library personnel.
"I dont think the students will stop reading these books after the movie comes out because of all the other books," Ms. Bounds said about the books' popularity even after the movie was released into theaters.
"I have definitely  seen students check out this book who normally don't check books out at the library," Bounds said.
With the amount of students who are interested in reading these book, some students have decided to take this problem into their own hands like sophomore Megan Laughlin who asked around and found some friends that actually own all three of the book so she was able to barrow them instead of buying them or waiting on the list. Megan really enjoys reading this series because  of all the action and suspense that makes it very easy to loose track of reality and read through the book at a fast pace because you want to find out what happen next.
"Im really excited to see the movie and im pretty sure that it will be very accurate to the book," said Laughlin
Last week was the midnight showing of "the Hunger Games" where some students from Penn Manor attended the showing at a theater near them.
The Hunger Games movie has been one of the biggest movies for gross revenue, $155 million, on its opening weekend, more than other popular book series movies such as the Twilight movie. Hunger Games fell behind other popular movie like last year's "Harry Potter" which raked in 169.2 million and "the Dark Knight" which brought in 158.4 million dollars a little more then the Hunger Games.
Although there have been no plans to make the other two books in the Hunger Games series into movies, "Catching Fire" and "Mocking Jay," but with the high success of the "Hunger Games" movie on its opening weekend it may be that these next two books in the series will bring in the same kind of profit.