By Daulton Parmer –
There is so much commotion about Peyton Manning and where he's going to play, the other one, the other Payton may get lost in the frenzy.
Sean Payton is the coach for the New Orleans Saints suspended by NFL Commissioner Roger Goodell  for allegedly paying Saints players to hurt players on opposing teams.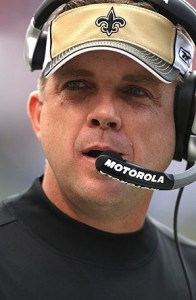 The defensive coordinator for the New Orleans Saints was said to have paid his players to physically knock their opponents out of the game. Which was dubbed "crush for cash" by the Associated Press.
'The NFL said the scheme involved 22 to 27 defensive players, targeting opponents including quarterbacks Aaron Rodgers, Cam Newton, Brett Favre and Kurt Warner. "Knockouts" were worth $1,500 and "cart-offs" $1,000, with payments doubled or tripled for the playoffs." according to a report filed on ESPN.
"I was completely shocked when I heard this, I could never participate in anything like this. Football is a man's sport and should be played with respect," said Penn Manor High School football player Joe Timmins, a Comet linebacker.
The Saint's bounty incident is being overlooked. And Super Bowl Champion Sean Payton will be suspended for the 2012-2013 football season, along with his general manager Mickey Loomis, only for half the season, though.
Bounty Hunter = One who hunts predatory animals in order to collect a bounty(money). According to thefreedictionary.com
This scandal wasn't for just last year, it's been around for a few. In the 2010 NFC Championship, captain Jonathon Vilma offered $10,000 to anyone who knocked Brett Favre out of the game. The game checked in with two roughing the passer penalties and a few cheap shots at Favre that injured his ankle.
Payton is the first NFL head coach to be suspended. He has been accused of trying to cover up the system of extra cash payouts that NFL Commissioner Roger Goodell on Wednesday called "particularly unusual and egregious" and "totally unacceptable."
Payton hasn't given much to the press about his suspension, but he is shocked to say the least.
"I think the entire team thought maybe there would be a four-game suspension, but not a year.  'Are you OK?'," said reporter Michael Smith.
Payton responded with, "No, I am not OK."
To add onto his suspension, he will also be going throughout the year with zero payment. Losing about $8 million.
The news shocked the entire NFL community.
"I am speechless. Sean Payton is a great man, coach, and mentor. The best there is. I need to hear an explanation for this," tweeted on Twitter from long friend/player of Sean Payton, Quarterback Drew Brees.