By Austin Hess and Becca Hess-
Immense concentration, utter silence, hours of practice  and  they each get one chance.
Sitting in on a high school bowling tournament for the first time, one may be surprised by the level of skill and focus each bowler needs to do well for their team. Whether they are doing well or bad – each bowler remains focused, making the Penn Manor bowling team the strongest they've been in eight years.
"They are the 'team to beat'," says bowling coach Chris Vital, "I've never seen a team like this is in the eight years I've been doing this."
With a record of 80-4, the Penn Manor bowling team has the best record of any Penn Manor bowling team, as well as the top record in the L-L  League. The team as a whole received first place in team leagues. Senior Will Welsh finished fourth in leagues and second in districts along with Brendon Yarnell in fourth and Cody Simet in fifth place for districts.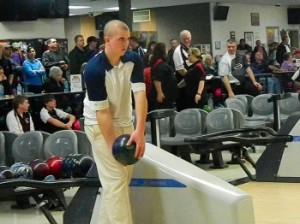 "Best team by far," Vital said with a huge smile on his face. That fact that they all have really solid games and make spares better then any other team."
Coach Vital mentioned that out of all the years he has coached, none of his teams have ever come close to the level that this year's team is. Right now, the bowling team has won more championships than any other varsity team in the history of Penn Manor.
"I think they feel like this is their year," Vital explained. "We're the team to beat," he reemphasized.
Although we have an amazing team this year, Vital has to think how things will be next year after seniors Brendon Yarnell, Tyler Bitts, and Will Welsh graduate.
"Last year I had three freshman come in," says Vital, " the two girls, Liz Burkholder and Julie Bianco, and Cody Simet. In their first year they've made a huge impact."
Now a sophomore, Cody Simet has already scored a perfect game in his short career on the bowling team.
"I expect great things from them," Vital says with confidence, "I know I'll have a solid foundation in them for two more years."
But just like any other team, the younger players respect the older, veteran players.
"Brendon's a great bowler and so are Will and Tyler. I look up to them," said Liz Burkholder.
For those on the bowling team, being in the "spotlight" is the last thing on their minds when they prepare for their next match. When they step into the alley to compete, the respect each member of the team gets from their peers from other bowling teams is easily noticeable when you get a chance to watch them do what they do best. Seeing them compete, they have earned all the respect they receive.
Even when they have to go head-to-head, the Penn Manor bowlers continue to pick each other up and encourage one another. They stay strong as a team which greatly attributes to their success.
"If one of us is doing bad we pick each other up. We stay positive and try to help each other out," said sophomore Liz Burkholder.
Not only do the players encourage each other, they get a lot of help and support from their coach as well as their families. During the singles championships which took place ( insert here), many family members and friends of the bowlers came out to support and cheer them on.
"I think Coach Vital gives everyone on the team the same opportunity and attention to improve their bowling and I think that's why we not only have strong bowlers, but a strong team," said Jeff Roth, Penn Manor's athletic director.
This year's team won the team championship, finishing the season with an 80-4 record, while individual team members also placed well in the singles event. Will Welsh finished fourth in leagues, and second in districts, while Yarnell finished in second, and Simet finished fifth in districts. This year's bowlers made up the best team in eight years, had great turnouts and successes at each of their competitions, and have shown that bowling is much more than what many think.